Xfinity Home Security continues to be one of the top contenders in the U.S. market for home security solutions. The addition of home security services to Xfinity is a fairly recent development – the telecom giant was quite focused only on internet, TV, and phone services for the longest time. Even so, Xfinity Home powered by the sophisticated Xfinity Alarm devices not only gets you top-quality protection, but does so at a competitive consumer price.
Xfinity Home security system offers several tiers of service, with value-added services. Xfinity Home comes with a bunch of smart and interesting features that make the whole experience wholesome and fun. Plus, the Xfinity emergency alarm system is intricate and sensitive – and ensures you never have to compromise on your safety if you ever feel threatened. In this blog, we discuss some of the features of Xfinity Home and a little about the Xfinity alarm system. You can learn more about Xfinity and its services from a Spanish-dedicated customer service. Just call Comcast Xfinity en Español at 844-207-8725. 
Send an Emergency Alarm from Xfinity Home Touchscreen
Emergencies can happen at any time, especially if you have elderly people or young kids in your household. Xfinity Home has a very good system to deal with emergencies. it is designed to be as simple and accessible as possible. In case of a crisis, all you need to do is send an emergency alarm from the Xfinity Home touchscreen in your home. 
The steps to follow to alert the emergency service via Xfinity Home touchscreen are given below.
For a home screen that looks like the one below, swipes up to the Dashboard. Tap the Emergency button on the lower-left side of the screen.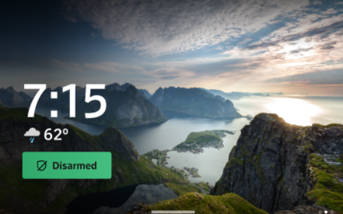 For a touchscreen with a home screen like the one below, just press the red emergency button on the bottom of the screen.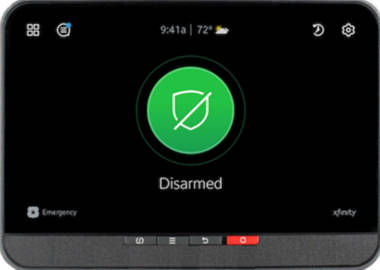 For an older model of touchscreen that looks like the one below, press the red emergency button on the bottom of the touchscreen. Then hold a panic button down for two seconds until the alarm sounds.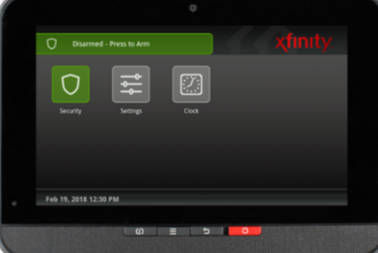 Once you have located the Emergency button, press and hold it for 2 seconds. This will activate your Xfinity alarm system and send a panic alert to the central monitoring system. They would call you to confirm the alarm and alert the police to reach your residence.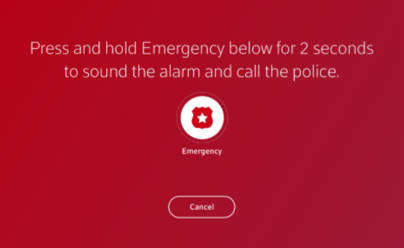 As soon as the alarm sounds, the Disarm keypad pops up. If the emergency alarm was accidentally activated, you can cancel it at this point by entering your four-digit keypad master code.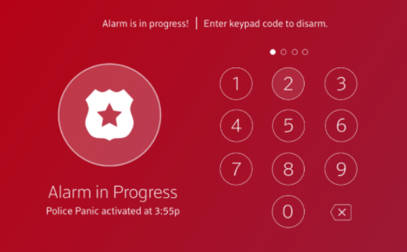 If you cancel the alarm, the details of the alarm system will display. You can simply tap the button on the upper left to return to the home screen.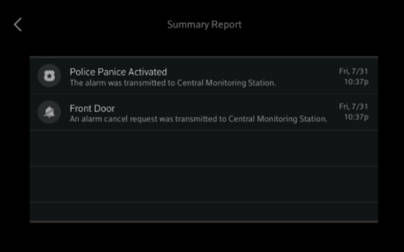 And that is all that there is to know about the emergency alarm from Xfinity Home touchscreen. The process is as easy as possible so that people of all ages can trigger it if the need arises.
Why Pick Xfinity Home Security?
Xfinity Home allows you complete control over your house – build or design a home security solution that works best for you. Whether you want to go for Xfinity's self-protection plan or professional protection Xfinity trusts your instincts. Choose where and how many cameras you want on your premises, set up smart home automation devices, and watch how your home transforms for the better.
There are many reasons why Xfinity Home security is the perfect pick for your home. Here is why:
State-of-the-art security equipment: Whether it is security cameras, Xfinity alarm devices, or motion sensors, everything with Xfinity Home is great. You can count on novel and unique home security equipment, which keeps your family and home safe. Watch live footage from your surveillance cameras, and always stay in touch with the movements in your house with smart motion detectors. The Xfinity emergency alarm system has a battery backup to keep you safe even when the power is out.
Take it up a notch and add on smart automation devices as well, such as thermostats, garage door controllers, smart locks, and more. Experience total control of your home, even remotely.
Multiple home security plans: One of the best things about Xfinity Home is that it offers you a variety of security plans to choose from. Do you want to go for a simple self-monitoring plan? Xfinity has you covered. Do you want an avant-garde security service with pro monitoring and a lot more? Xfinity has something for you.
 There are plans of each type, with self-protection starting as low as $10 per month. Choose a plan that works for your home, fits your budget, and keeps your family safe and secure.
24/7 security with professional monitoring: Self-protection is great to keep in touch with what's going around your home, but you know what is even better? Professional monitoring. Not only do you get 24/7, around-the-clock monitoring with professionals keeping an eye on your home but you can also count on immediate support in case of emergencies.
 Professional monitoring from Xfinity is extremely well priced with plans starting from $40 per month – which is quite affordable in comparison to some other security providers. And of course, there is no term contract to worry about so you can opt out of the service at any time.
Xfinity Home is a security service like none other, characterized by no contract, affordable pricing plans, multiple service tiers, and more. You can get a base plan and then build on it – add as many devices as you want for a completely customizable security experience. Self-protection gets you all updates directly on your phone but for a well-integrated security solution, we recommend you to go with an Xfinity Pro Protection plan.
Learn more about Xfinity Home services or call now 1-844-207-8721 to order!
Frequently Asked Questions (FAQs)
1. Is Xfinity Home available in my area?
 Xfinity Home is available in about 36 states of Xfinity coverage. To determine availability in your area, call our experts at 1-844-207-8721.
2. How much does Xfinity Home security cost per month?
 Xfinity Home security plans are available in different tiers of service depending on what you are looking for. You can get Xfinity self-protection starting at $10 per month, whereas Xfinity pro protection plans start at $40 per month and come with 24/7 professional monitoring. Call now at 1-844-207-8721 and explore exciting deals in your area!
For more information, call Xfinity customer service at 844-207-8721