As important as our internet connections are, it is exasperating when it feels like our ISPs are selling us short — and, apparently, that's exactly how most Americans feel. A lot of us had experienced in-home connectivity issues, including outages, slower connections, and sluggish-seeming speeds during peak hours. And that's to say nothing of ISP billing practices, the lack of broadband infrastructure in rural regions, or the way the growing monopolistic structure of the broadband industry means that residents of select regions are stuck with only one or two service providers to select from.
Although the question — how fast your home internet service is — seems pretty simple, how the broadband industry gets at the answer is pretty complicated. Multiple broadband companies have been accused of attempting to make their services look better by falsifying information in the FCC's Measuring Broadband America report, which compares actual broadband speeds with the speeds broadband providers advertise.
FCC's Internet Speed Test VS Actual Download Speed
Let's first dig a little into the industry dynamics. What does the Federal Communications Commission do? The FCC regulates interstate and international communications through satellite, cable, wire, radio, and television. Its primary goal is to promote connectivity and establish a competitive and prosperous market.
Every six months, the FCC releases updated data on the respective coverage of major ISPs in the United States. That includes metrics on different types of technologies used, coverage maps, the number of customers in each provider's footprint, and the specific speeds available to their subscribers.
For better data accuracy, the FCC is encouraging more Americans to use its speed test app to help provide improved broadband speed information to the public. This tool is being used as part of a larger effort to enhance its maps to get a better picture of broadband in America.
That said, it is not easy to accurately measure how well the United States is doing as a nation in terms of deploying speedy broadband. One stumbling block is the gap between speeds reported by ISPs and users, who often complain that their providers promised higher speeds than what they actually deliver.
Advertised Vs Actual Internet Speed
Now, the FCC has a decent amount of data to support the ISP's speed claims. The most recent FCC speed tests, run in December 2021, found that for most major ISPs that were tested — download speeds were 100% or better than advertised speeds during peak hours i.e. 7PM - 11PM.
| | | |
| --- | --- | --- |
| Service Type | Percentage of Subscribers | Percentage of advertised download speeds |
| DSL | 3% - 75% | greater than or equal to 95% |
| Cable | 89% - 98% | equal to or better than 95% |
| Fiber | 53% - 98% | equal to or better than 95% |
Which ISPs Delivered on their Speed?
The top ISPs, when measured by this metric are Charter, Comcast, Cox, Mediacom, and Optimum. Around 88% of their panelists were able to enjoy an actual median download speed of at least 95% of the advertised download speed.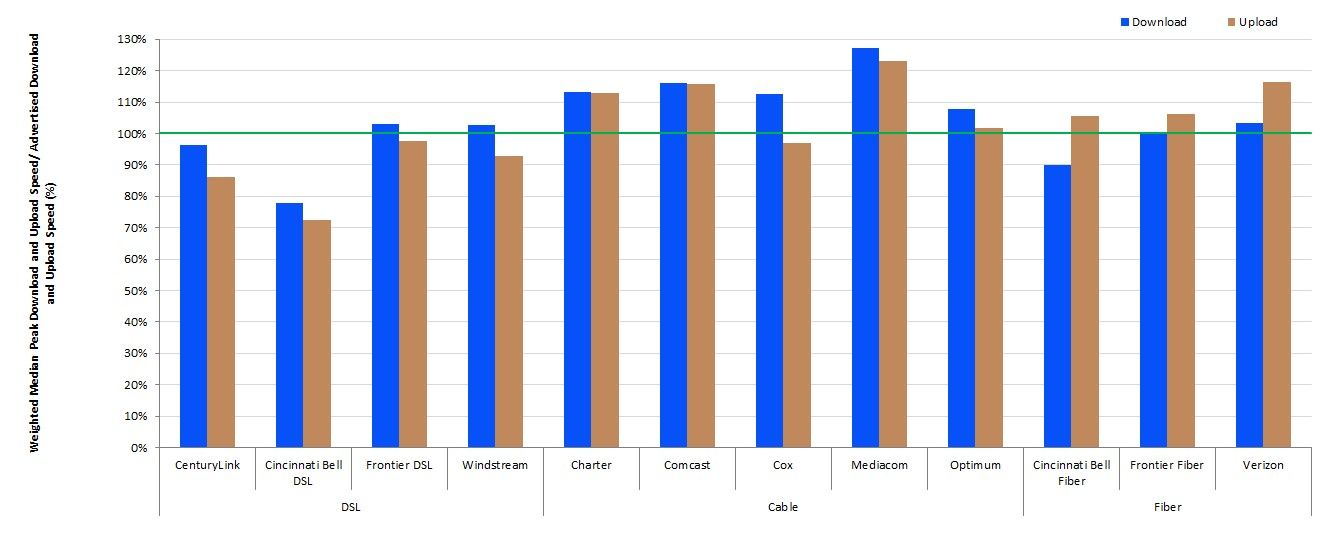 Source: FCC
But…Why Actual Internet Speed is Not As Advertised?
Well, there's no easy answer. Internet connections are tricky and come with common headaches like network capability, gating, network congestion, and more factors that are simply beyond your ISP's control.
Although FCC is the only agency that collects standardized data on broadband deployment speeds, its approach is flawed. Through the FCC's Form 477, internet providers give data about areas that have access to high-speed broadband along with speeds advertised in those areas, which the FCC draws on its broadband map.
However, Form 477 data is inaccurate and manipulated. Here's why:
It considers a census block as served, even if only a single address in the entire block has internet access. This approach results in overstated availability, especially in rural regions where census blocks are huge, and an entire region could be misapprehended to have access to high-speed broadband.
Internet providers have to report only those speeds that they could practically deliver to households, and not what they actually deliver.
This raises more questions than answers!
How to Pick the Speed You Need?
Before signing up for any internet plan, keep in mind that your speeds may vary. Most ISPs prefix their speed claims with language like "up to" because there are various factors that can affect your connection. And you will also notice that the broadband disclosures for some major ISPs start by spelling out what these things are — the limitations of your network, capabilities of internet-connected devices, and heavy traffic to specific services and sites.
Here, it is worth a mention that advertised speeds are usually based on wired connections to the modem. For this reason, speeds will dip a bit if you wirelessly beam an internet connection throughout your home with a Wi-Fi router. This means your internet could be slow because of your provider but most internet speed issues have nothing to do with your provider's network. You may need to get a Wi-Fi extender to extend the coverage area of your WiFi network throughout your home or change the position of your router to optimize your connection.
The good news is speeds of 100 Mbps and higher will handle most online activities, including online learning, working from home, gaming, and streaming on multiple devices. That is actual speeds of 100 Mbps or higher — not advertised internet plan of 100 Mbps. If your internet plan advertises max speeds of 100Mbps, always remember your actual speeds are going to be much lower if you connect multiple devices and use a Wi-Fi connection.
How to Get the Speeds You Pay For?
While shopping for internet speeds, you will realize providers don't always make it easy to understand what your bill is going to look like. Most will require you to enter your home address and contact info before showing you any specific offers available in your neighborhood. You might also face difficulty figuring out how much you will be paying once the promotional period is over.
If you are paying around $65 every month for up to 250 Mbps advertised speeds, but you are actually getting only 60 Mbps — speeds that might normally cost around $35 per month — then you should call your ISP and ask to fix your connection speed or give a discount.
The faster speeds your internet plan advertises, the more you pay. For this reason, it's important to know how to check if you're getting the speeds you are paying for. Here's how you can check your home internet speed:
Connect your computer to your router via an Ethernet cable.
Open your web browser.
Run a speed test
BuyTVInternetPhone's speed test will show you your upload and download speeds. Sometimes you might be a little above or below what you pay for. That's fine because internet speeds tend to fluctuate throughout the day. Having said that, if your test results turn out to be drastically below the speed you are supposed to be paying for, try running multiple tests during different times of the day to see what your connection speed averages out to.
Top Internet Providers: Advertised Speed vs User Speed Test
Some home internet providers are better than others, though — and below, we've compiled internet speed data of the top ISPs in the United States.
That said, speed test results for different users will vary depending on the specific plan they have subscribed to. So, keep in mind the user speed test results compiled below are collected from each provider's diverse consumer base — all of which must not have subscribed to the provider's maximum advertised speed plan. For this reason, it only gives a clear picture of the average speed you may be able to enjoy from a specific provider and not a fair comparison of advertised vs actual download speeds.
| | | | | |
| --- | --- | --- | --- | --- |
| Provider | Maximum Advertised Download Speed | User Speed Test Download Speed | Average Jitter | Total number of tests from Provider's Connections |
| | 5 Gbps | 522.4 Mbps | 27.52 ms | 4.7 million |
| | 1 Gbps | 493.8 Mbps | 16.67 ms | 97 thousand |
| | 1 Gbps | 479.02 Mbps | 19.22 ms | 4.5 million |
| | 6 Gbps | 461.53 Mbps | 19.65 ms | 14.8 million |
| | 1 Gbps | 457.84 Mbps | 29.4 ms | 0.5 million |
| | 1 Gbps | 415.08 Mbps | 31.11 ms | 19 thousand |
| | 940 Mbps | 368.21 Mbps | 93.97 ms | 1.7 million |
| | 1 Gbps | 360.42 Mbps | 31.32 ms | 0.3 million |
| | 1 Gbps | 313.3 Mbps | 29.66 ms | 13.1 million |
| | 2 Gbps | 222.37 Mbps | 57.96 ms | 0.3 million |
| | 250 Mbps | 53.13 Mbps | 35.5 ms | 0.1 million |
| | 25 Mbps | 30.83 Mbps | 49.86 ms | 0.2 million |
There You Are!
Now that you have learned the basics about advertised vs actual speed, test yours. See what you are getting. Maybe it's time to look for a better internet plan or provider — that delivers speeds as advertised, depending on your needs and budget.
And if you are confused about how to figure out the ISPs available in your area, reach out to experts at 1-855-349-9328 to learn which providers service your area and which offers are available at your address. They can also help you choose a plan that may be the best fit for your requirements. Good luck!
Frequently Asked Questions (FAQs)
Is the advertised speed download or upload?
Most ISPs only advertise download speeds prominently as these have much greater significance —capable to support most of the online activities an average user performs online, such as attending a work meeting or streaming your favorite TV show.
What is fast internet speed?
According to the FCC, an internet plan that provides 25 Mbps download speed qualifies as a broadband connection. So a 25 Mbps connection will be categorized as "fast" and anything above that would be "faster". For more information, call now at 1-855-349-9328.