Hello Muggles!
We all can agree on one thing that watching Harry Potter movies was the rite of passage for every 90's kid. And we still cannot get over all the octet titles about the "Boy Who Lived"— whose journey started as an orphan boy living inside a Cupboard Under The Stairs and ended as the most powerful Sorcerer of the Wizarding World. This titular boy wizard is one of the iconic characters, admired by everyone, and there is never a dull moment when you are watching the Harry Potter film series. However, few people still think that Harry Potter is not for them. Well, we beg to differ!
We Potterheads can assure you that once you get your feet wet, you will not stop until you're done watching the complete Harry Potter series. But the main question still stands that how are you going to watch all the Harry Potter Movies? Fret not! With the help of our guide, you can explore all the platforms that are currently streaming all the Harry Potter movies.
But before diving in, we must acknowledge that last year was quite eventful for all the Harry Potter fans as the complete series was made available on HBO Max, and everyone who had access to the VOD or a subscription to Spectrum TV or DIRECTV service was in for a treat. It's not every day that we get to watch our childhood favorite movie series on our TV or a streaming service. But there are still some ways through which we can apparate to the wizarding world from the comfort of our home. And watch all the eight Harry Potter movies through various platforms.
Harry Potter movies are available on DVD and Blu-ray. However, in order to tune in to the Hogwarts adventure, you don't always have to rely on these DVDs and can easily watch the movies through your TV service. If you are a fan of cable TV — subscribing to cable TV providers will give you the opportunity to watch thousands of your favorite TV shows and movies, including Harry Potter.
As the complete Harry Potter series is showcased on the SYFY channel's on-demand library. It contains all the Harry Potter fantasy movies and will give you an easy way into the life of Hogwarts. If you are looking for a reliable cable TV provider, you can access the SYFY channel on Spectrum Cable service, and subscribe to any Spectrum TV bundle offers or packages. It is one of the most convenient ways to watch your favorite series.
Moreover, once you are subscribed to one of the most reliable cable TV services in America you are showered with a variety of interesting options with the exhaustingly long Spectrum channel lineup. That also includes channels like NBC Universal (NBCU) that also shows the Harry Potter series now and then on its network. This is mainly because NBCU signed a deal with Warner Bros, to get the on-air and digital rights to the Wizarding World properties.
To boot, if you reside in a few of those states that don't have access to Spectrum services, or you want to explore another provider — you can always rely on Cox! The provider has an enchanting range of cable TV options that allow you to have access to feature-packed plans containing generous channel lineups. Plus, if you are eager to watch Harry Potter get sorted into Gryffindor House and fight with his archenemy, He Who Must Not Be Named — you can steer for USA Network on Cox TV.
One thing many people will agree on — the Harry Potter movie is a much easier toe-dip than its 4,224-page books. Or even if you love book binging — a Harry Potter movie marathon is the next best way to escape from your non-magical reality. The Harry Potter franchise is loved by people of all ages and highlights the caliber of quality content that everyone wants to watch. Despite being such a huge and famous franchise, it is surprisingly difficult to track down.
Currently, there are few VOD streaming platforms where the franchise made an appearance from time to time. Platforms like Peacock and HBO Max have bought Harry Potter movies for its customer. However, Potterheads should not lose hope because NBC Universal (NBCU) highlighted that Harry Potter films will be available in windows — this means that they will reappear on the platform every few months as they regularly change the content as per audience demand. So you'll definitely see the Harry Potter movies streaming on these platforms whenever they deem it's the perfect time to embrace the Pottermania.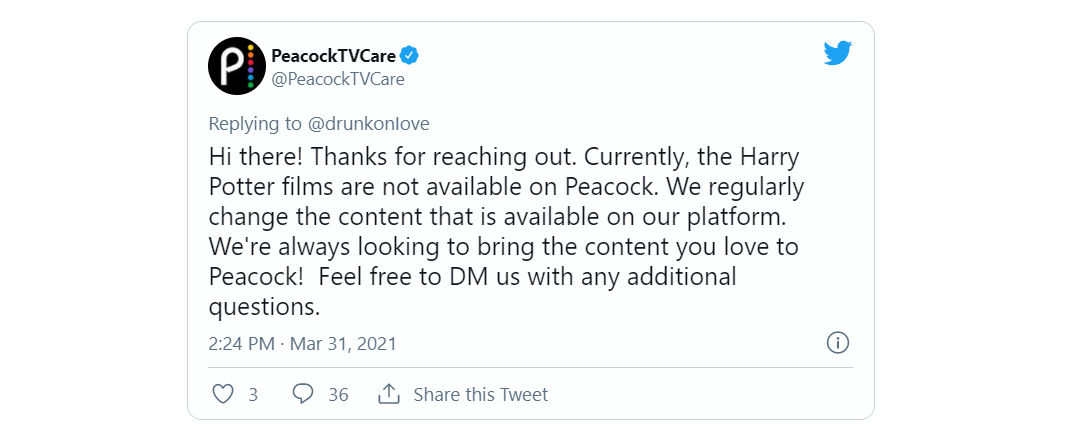 All the Harry Potter movies are currently unavailable to stream legally in the United States. But thanks to cable TV services, we don't have to worry about illegally downloading the series. And if you are a customer of WOW!, then this provider is one of the greatest options to go for movies and TV shows variety. Subscription to WOW TV plans allows you to have access to a massive channel lineup, which includes a variety of networks that air Harry Potter movies.
For additional alternatives, either rent or buy the eight-part Harry Potter movies in digital and physical formats. You can explore, and buy all the Harry Potter parts from iTunes, Microsoft, Google Play Store, or Vudu. You can also get the entire Harry Potter movie series from Amazon in both digital and physical formats. Moreover, if you are comfortable streaming your videos on YouTube, you can buy or rent all the Harry Potter movies on YouTube Movies as well.
It's time to put on your wizarding hat, fill a nicely buttered popcorn bucket, and prepare for your journey to Hogwarts with our guide that will allow you to watch and experience the Wizarding World again. And since it is not available in the U.S., it has become tougher to find the platforms where you can enjoy Harry Potter movies streaming. But if you are one of the Potterheads — it must be impossible not to spend your time binge-watching these fascinating series that always leave us so spellbound!
Are the Harry Potter movies available on Netflix?
Unfortunately, you cannot watch Harry Potter movies on Netflix right now. But don't fret — several other fantasy film options are available to stream on Netflix.
Are the Harry Potter movies available to rent or purchase?
Yes, you can purchase or rent all the eight Harry Potter parts from Amazon, YouTube Movies, Vudu, iTunes, Microsoft, and Google Play Store.
What order should I watch the Harry Potter films in?
The Harry Potter movies consist of a total of 8 parts — the last part titled Harry Potter and the Deathly Hallows is divided into two separate parts. You can watch the complete series in the following order:
Harry Potter and the Sorcerer's Stone
Harry Potter and the Chamber of Secrets
Harry Potter and the Prisoner of Azkaban
Harry Potter and the Goblet of Fire
Harry Potter and the Order of the Phoenix
Harry Potter and the Half-Blood Prince
Harry Potter and the Deathly Hallows (Part 1)
Harry Potter and the Deathly Hallows (Part 2)