In today's time, when you are vacationing on the water and sailing with the winds on your yacht you don't have to miss out on your favorite TV shows—thanks to satellite TV technology. To satisfy your need for TV entertainment, you can go for any one of the two choices available in the U.S. i.e. DIRECTV via Satellite and DISH. Both satellite TV service options are available if you're looking for a comprehensive service—on land and water.
Subscription to a pay-tv service is however not the only requirement for you to set up your boat with satellite TV. If you want to enjoy an onboard TV experience you must also have a boat TV antenna. And if you are looking for HD programming, you have to make sure these two significant elements complement each other i.e. the satellite TV antenna and the service.
While once only superyachts could boast a satellite TV setup, in recent years technology has advanced and become more affordable?with a result, even small boat owners are now able to mount a compact satellite TV antenna onboard at a decent price. The right stabilized marine satellite antenna, depending on the size of your boat and where you are headed, paired with a compatible satellite TV service subscription, is what you'll need to set up your in-boat cinema.
For this reason, it is important you make up your mind about which satellite TV service you are going to choose, and take it from there as you look for compatible equipment.   
In the U.S. you have two premium satellite TV choices within your reach— DIRECTV via Satellite and DISH. You have to pick one of these if you want access to broad-spectrum TV entertainment on your boat. Keep in mind both providers have different compelling points up their sleeve. Choosing one of these will require you to analyze each and assess which one is a better fit for your needs.
Luckily, since you only have to compare two satellite TV providers—it won't take long! Plus below you will find the key factors that differentiate the services from each other. So go through the comparison between DISH and DIRECTV via Satellite and find your best fit.
| | | |
| --- | --- | --- |
| Plan | Promo Price | Max. Channel Count |
| ENTERTAINMENT | $64.99/mo. for 24 months plus taxes | 160 |
| CHOICE™ | $84.99/mo. for 24 months plus taxes and fees | 185 |
| ULTIMATE | $109.99/mo. for 24 months plus taxes and fees | 250 |
| PREMIER™ | $134.99/mo. for 24 months plus taxes and fees | 330 |
Note: Availability and price may vary as per location and is subject to change.
There is no doubt about the extensive range of the DIRECTV channel lineup. With 13 million pay-tv subscribers the provider is the top choice in satellite TV service provider. If you are interested in quality entertainment, DIRECTV via Satellite can become your perfect sailing partner! It offers a plethora of movies, shows, and sports programming from a range of popular networks, which lets it gain an edge over DISH.
The service pledges 99% signal reliability so you can look forward to catching up to all your favorite shows and movies—live, on-demand, or recorded—while you are vacationing on the waters.
Enjoy on-demand content and watch TV favorites on your own timeline—up to 70,000 titles become accessible when you subscribe to DIRECTV Premier All-Included. And, the FREE Genie HD DVR allows access to 200 hours of HD video storage. So, you are never short of entertainment options.
Having DIRECTV as your boat satellite TV service will also give you access to premium channels like Cinemax®, MGM+, MAX, SHOWTIME®, and STARZ®—a limited-time subscription comes included in the price with each plan—except Premier All-Included which gets you unlimited access to premium networks.
| | | |
| --- | --- | --- |
| Plans | Price | Channels |
| America's Top 120 | $89.99 | 190 |
| America's Top 120 | $104.99 | 190 |
| America's Top 200 | $114.99 | 240 |
| America's Top 250 | $124.99 | 290 |
Note: Availability and price may vary as per location and is subject to change.
Setting up a marine satellite TV doesn't come easy on the pocket. The DISH TV service for outdoors is priced higher than residential plans. But, comes with a 2-year price lock. And, higher tier DISH plans are actually cheaper than DIRECTV's top tiers—namely because DIRECTV is the fountainhead of the best in sports programming which contributes the most to the higher rate. Meaning if you are not big on sports you can choose the cheaper top-tier plans with DISH and save!   
The DISH channel lineup is pretty wholesome—with America's most-watched channels included in all tiers in varying numbers. It is just that in comparison to DIRECTV, the service appears rather pale to TV buffs. Nonetheless, it is a quality option and the choice of an estimated 8.82 million pay-tv subscribers­.
DISH offers up to 36,000 on-demand titles when you are subscribed to America's Top 250. And, the Hopper 3 HD DVR acts as a perfect satellite receiver while also giving you 2 TB worth of storage for video content. Meaning you always have something available to watch when you are ready to tune in.
As we said DISH gives you a price guarantee for the 2 years of the contract. So you don't have to worry about the price hike after the first year.
All in all, both DIRECTV and DISH amplify the standard of value-based programming?each in its own way. It depends on your preferences as to which is the better fit.
Once you make up your mind regarding which satellite TV provider you'd prefer— it is time to choose a marine satellite TV antenna for your boat. There is a variety of manufacturers in the industry - Intellian, KVH, Garmin, and more. And, there is a still bigger variety of boat satellite antennae available from these makers. Whichever you pick, must be compatible with the service you have chosen for yourself. Plus it is worth remembering a compromise on the satellite TV antenna for your boat would be a big mistake as it is one of the integral parts of your boats satellite system.
Before we talk about a selection of products, here is a quick run-through of what you must take into consideration when selecting your boat TV antenna.
Even if you are not going for the most high-end equipment, in order to get the right one, you'll have to make an investment?big or small?so its prudent to make sure you cover all your bases.  
Not all satellite TV antennae are capable of operating perfectly in the middle of the sea. Even a fully automatic one is essentially built to work when stationary. So while they can find a satellite, and lock onto it, when the boat TV antenna is in motion it would not follow the satellite. Boats move, even when they are anchored. So if you plan to watch not just on the shore but on the waters too, you will have to make an investment in a dish that is able to track the satellite constantly.
This may not seem important as long as you are on land or at a dock. But the farther you move from the shoreline, the weaker would be the signal because satellite TV services prioritize beaming the signal in the direction of the mass of land where the bulk of users is. So, if you are planning to venture out in deep waters, get yourself a bigger satellite dish.
Will you sail to South America or Europe? Your satellite TV service may not be with you when you cross the U.S. maritime borders. The LNB (Low Noise Block) is specific to geographical locations. And, so you will have to get either a satellite TV antenna with All-Americas LNB or a Worldview antenna that comes with a global LNB.
If you want to receive HDTV, you should not only have a high-definition television set and an activated HD satellite receiver but a dish fitted with an HD Antenna Control Unit (ACU). A variety of satellite dishes that support both DIRECTV and DISH can pick DIRECTV in SD only. So if you want to ensure the dish you choose is able to pick the HD version of your DIRECTV channels, make sure it has a multi-satellite-interface module added to it. To make it easier, the dish you have picked must explicitly tell you it is compatible with HD service from DIRECTV.
Here, take a look at an overview of select products. But, we recommend you research thoroughly before picking any to ensure your investment brings you good value for your money.
Intellian i5 US System-20.8" Dish w/All Americas LNB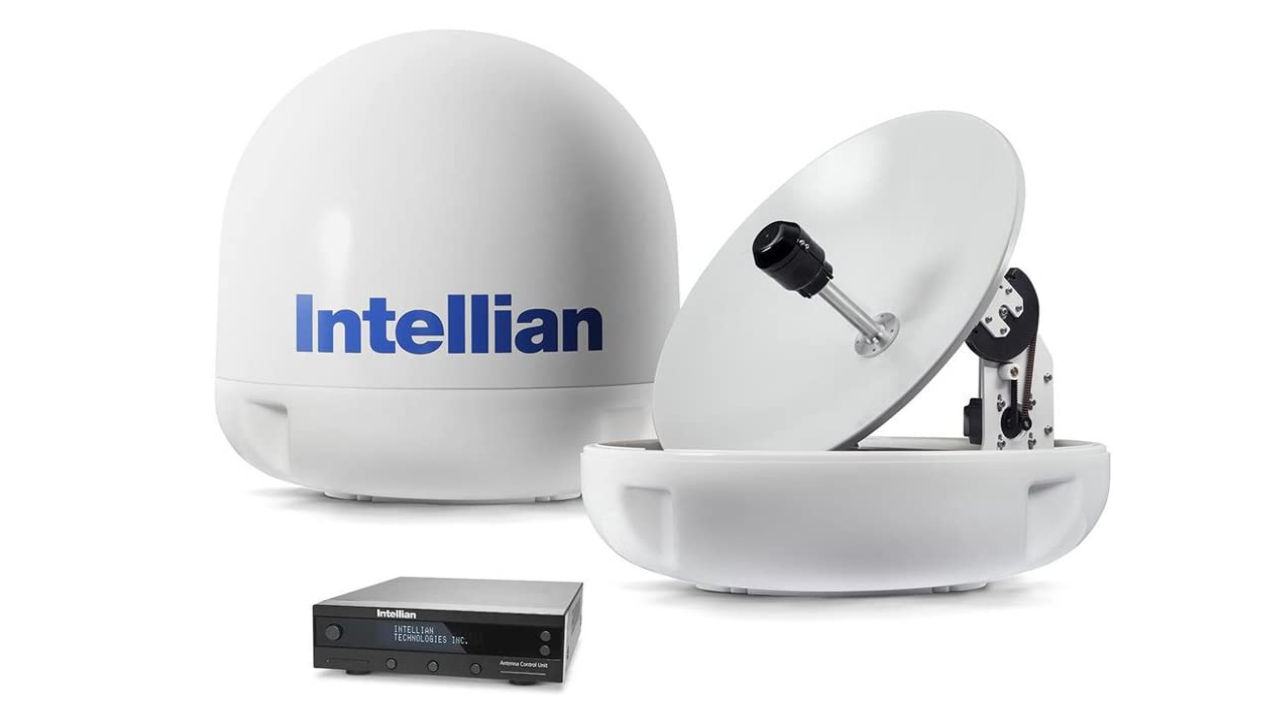 Compatible with: DIRECTV  
With a wide product range, Intellian is one of the best options for boat satellite antennas. Intellian products are specially designed for offshore cruising vessels that are 35-60 ft. in length. The i5 system is able to deliver quality signal reception in most popular cruising destinations, and performs similar to a 24-inch system?you can receive signal throughout the Bahamas, Caribbean, and Mexico. The All America's LNB from Intellian does away with the hassle of having to switch components while sailing from one coverage zone to another. The Triple Sat Function helps auto-switch among 3 satellites, while the Automatic Skew Control provides better satellite tracking over greater distances. Its multiple receiver capabilities allow you to control the target satellite, which means you can use your remote for automatic satellite switching just like at home.
All in all the compact size extended coverage with the Intellian's signature iQ2 tech, and its easy installation makes it a great choice.  
KVH—TracVision UHD7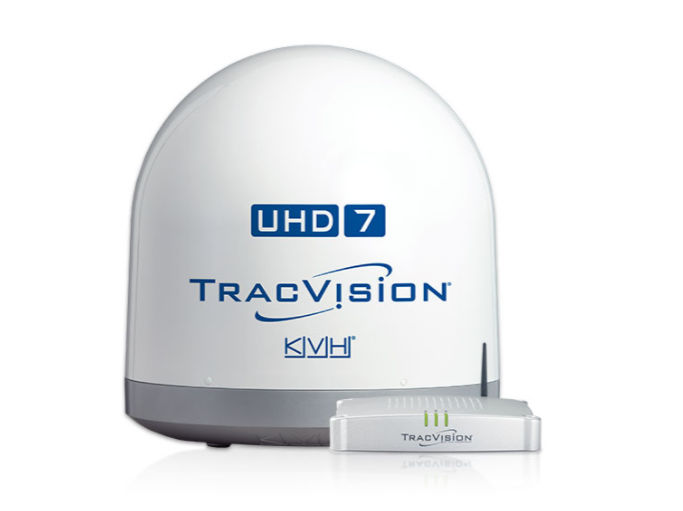 Compatible with: DIRECTV & DISH
A perfect pick for sailing enthusiasts—the KVH has been around for more than two decades. KVH products are exclusively designed to enhance the performance of your TV service and offer a remarkable experience of digital TV. Being at the top of the ladder, KVH always makes sure to bring something extra to the table.
This high-performance 24" satellite TV antenna gets you DIRECTV 4K UHD programming in its full glory. The boat satellite antenna is able to track the 3 DIRECTV satellites simultaneously by taking advantage of the futuristic TriAD™ technology?thus opening the door for TV entertainment in the industry's best picture format. The system comes complete with an advanced stability tracking feature for exceptional reception even when the waters get rough. Easy 2-Cable installation, the exclusive TracVision app to check signal strength, and more, the UHD7 Configuration Wizard?these are just some of the features that make this latest product from KVH one of the best choices for a boat satellite TV setup.  
Cobham—Sea Tel 100 TVHD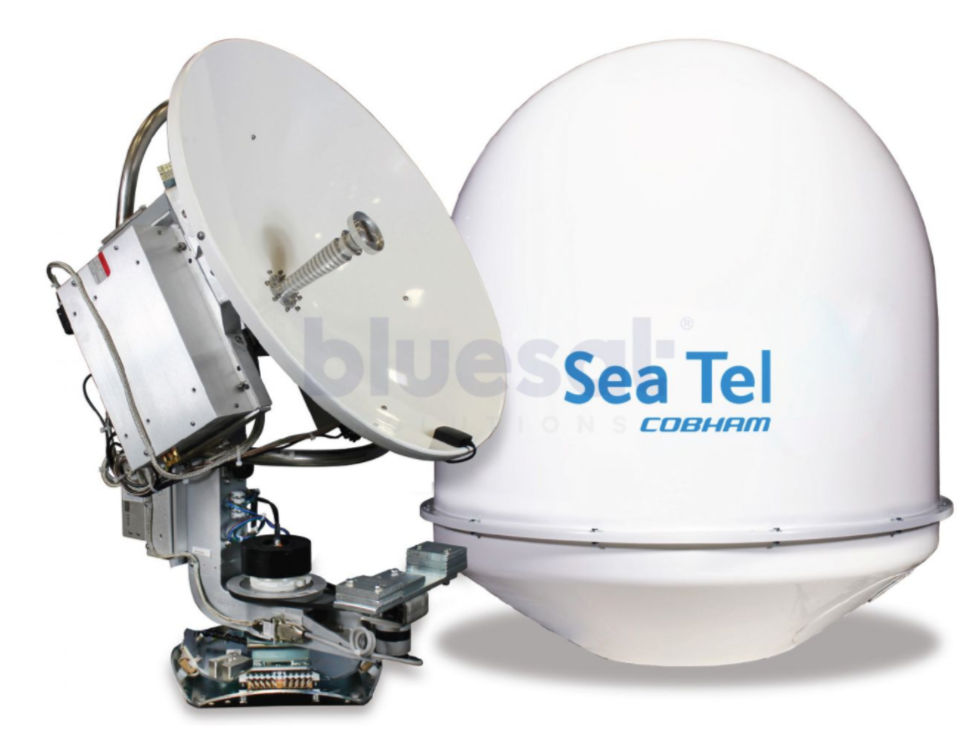 Compatible with: DIRECTV
Sea Tel offers marine satellite TV antennae that are thoughtfully designed and intelligently built?tried and tested for reliable operation at sea. The Sea Tel 100 TVHD system is equipped with a new 3 port feed and LNB to simultaneously receive high-quality HD TV via DIRECTV service in North America. It is large in size at over 41" and is designed to minimize signal loss. The advanced 3-axis is made to handle extreme conditions, so whether you are on the dockside, anchored or on the waters, the Sea Tel boat satellite TV antenna ensures reliability even in adverse weather conditions.
If at all there is a downside, it is the price point that leans to the high end, but then the product is built to perfection in terms of delivering the best of satellite TV on your boat.
On one hand, where Cable TV is preferred by millions of consumers, Satellite TV is the top choice for people who spend more time on the sea. And now getting the service to keep you entertained when cruising is easier than ever—thanks to the availability of DIRECTV and DISH services on a boat.
The overall expense is a major consideration for most vacationers, but then if you are out on the waters frequently, a one-time investment in a reliable satellite TV antenna can be worth every cent you put in. The best part is if you also want boat internet, HughesNet satellite internet service pairs up with both DIRECTV and DISH to make bundles that are outstanding in value.
Can I have more than one TV on my boat?
Yes, a single satellite TV antenna can be used to connect multiple TVs. As long as all TV sets are connected to the same set-top box, you'll be able to watch only one channel at a time. But if each TV is connected to its own set-top box, you can tune into different networks.
Can I combine satellite TV services and the internet?
Yes, but since DIRECTV and DISH are satellite TV services, you'll have to subscribe to a bundle with internet for yachts. For instance, to add boat internet to your DIRECTV or DISH subscription, you can sign up for HughesNet Gen5 satellite internet.   
Can I stream Netflix on a boat?
Yes, once you bundle the internet service from HughesNet with DIRECTV or DISH—you will be able to stream your favorite Netflix shows and movies on your boat.