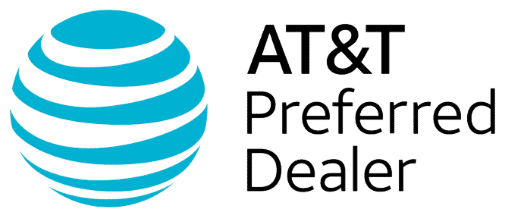 $124.99/mo. plus taxes & fees
AT&T Fiber + DIRECTV ENTERTAINMENT Package
300 Mbps equal upload and download speeds++
Live TV, 40,000+ on-demand titles and 20 hours of cloud DVR storage
Make it unlimited hours of cloud DVR for $10/month
Are you struggling to find a suitable internet plan to meet your work from home and other needs? Then, mobile hotspot is definitely the solution you are looking for!
How can mobile hotspots help you? They convert your cell phones into Wi-Fi routers. This way you can easily connect all your devices to the internet by just using your phone's wireless internet data. If you are neither at office nor at home, you don't need to worry about internet connectivity, if you have a mobile hotspot. It allows you to stay connected on the go!
As more and more people are using a mobile hotspot, the scope to switch from a home internet connection to a mobile hotspot is also increasing rapidly. But most people look for unlimited hotspot plans at affordable rates.
AT&T (for ESP user AT&T Español) is one of the best internet providers in the U.S. With an AT&T mobile hotspot, you don't have to worry about separate bills! This article will guide you about what you need to know as far as AT&T mobile hotspot unlimited data plans and how you can get them!
Can You Get Unlimited Hotspot with AT&T?
Yes, you can get AT&T unlimited hotspot plans! It might be a little challenging to go through different types of ever-changing plans and packages, but all these efforts are definitely worth it. We have covered basic tips and tricks in this article to help you enjoy an AT&T Unlimited Hotspot precisely for this reason.
First things first, you need to know about your required internet speed. You can invest in any basic data plan and change it later if it doesn't match with your internet requirements. However, we would recommend you take a speed test in order to buy the right data plan and avoid any problems later on.
AT&T Wireless offers 2 amazing unlimited hotspot plans—Unlimited ExtraSM and Unlimited EliteSM. With these plans, you get the opportunity to enjoy unlimited data, calls and text, in addition to the mobile hotspot feature. You can also pick one of the AT&T Mobile Share Plus plans, which get you a mobile hotspot feature—these plans get you unlimited talk and text, but you don't get a data pot exclusive to the mobile hotspot feature.
Unlimited ExtraSM and Unlimited EliteSM are packed with great value for your money . You can enjoy a high speed mobile hotspot with 15 GB data allowance per line with Unlimited ExtraSM. Whereas, with Unlimited EliteSM, your mobile hotspot data stipend per line is 30 GB. Once, you have reached these data limits you can still use AT&T Unlimited hotspot speed up to 128 Kbps—meaning you are never offline!
On the other hand, the Mobile Share Plus 9GB plan allows you 9GB of 4G LTE shared data, and the Mobile Share Plus 3GB gives you 3GB of 4G LTE data to share—the perk is that you can rollover unused data to use the following month. If you are not extravagant in your data usage, this may just be a good fit for you. With these plans too, you are never offline as AT&T only slows your connection speed down to 128 Kbps.
Are you thinking about the charges you may need to pay if you exceed the data limit? Relax. AT&T Wireless won't charge you a single penny. As we said, you will only face a slow hotspot speed until your next billing cycle kicks in.
How Much Is an Unlimited Hotspot Plan with AT&T?
AT&T mobile hotspot unlimited data plans offer amazing deals in a good price range. To help you decide on the best unlimited plan, here are the offerings of AT&T wireless internet plans at a glance. If you have a good idea about your data consumption, it would not be challenging to pick the right one.
Unlimited Plan
What Will You Get?
How Much Will You Pay?
AT&T Unlimited ExtraSM
Video streaming (SD)
$40 per line/mo.
Price is after Autopay & paperless billing discount. Taxes and fees extra.
5G Access
50 GB Premium data
15 GB hotspot per line
128 Kbps mobile hotspot after reaching data limit
Unlimited phone calls, data, and text
Unlimited texting from America to 120+ countries worldwide
AT&T Unlimited EliteSM
Free HBO MAXTM
$50 per line/mo.
Price is after Autopay & paperless billing discount. Taxes and fees extra.
Video streaming (HD)
5G access
Premium data up to 100 GB
30 GB hotspot per line
128 Kbps mobile hotspot after reaching data limit
Unlimited phone calls, data, and messages
Unlimited texting from America to 120+ countries worldwide
How Do I Get More from an AT&T Hotspot?
The best way to enjoy more from an AT&T hotspot is by purchasing one of their hotspot devices. It is more feasible compared to using your personal mobile as a hotspot, because you won't have to worry about charging your mobile phone all the time. An AT&T mobile hotspot device will provide a secure internet connection for your devices through Bluetooth, Wi-Fi or a USB cable. You can take this personal router anywhere with you and enjoy high speed internet.
So, if you are subscribed to AT&T Unlimited Plans that we have discussed earlier, or any of the AT&T Mobile Share Plus plans for that matter, you automatically have a compatible data plan to go along an AT&T Mobile hotspot device.
As for mobile hotspot devices quite a few are on offer. The most popular one is the NETGEAR Nighthawk LTE Mobile Hotspot router. It connects 20 devices at the same time. You don't even have to worry about charging the device as it has a 24-hour long battery life. It is a dual-band device which allows you to enjoy data transfer over concurrent 5GHz and 2.4 GHz bands.
If you want to get more hotspot on AT&T, then you have to bear the heavy costs attached with AT&T hotspot device. The full retail price of NETGEAR Nighthawk Mobile Hotspot router is $249.99. Pretty expensive, right?  But here are ways you can make the deal match your budget constraints:
Avail yourself of the AT&T installment plan, and purchase the device by paying $8.34/mo. at 0% APR.
Wait for Black Friday sale to get a huge discount! No kidding. You may as well get lucky and land an unbelievable bargain.
The hotspot device comes with a free NETGEAR Mobile App which lets you manage Wi-Fi connections for all your devices—configure settings, set up parental controls, oversee connected devices, and track data usage. You can even view and play stored media files via the app.
Can a Mobile Hotspot Replace Home Internet?
Well, yes! You can replace your home internet with an AT&T mobile hotspot unlimited data plan, but there are certain factors you must be aware of before making a decision to switch completely. We have listed these 3 most important ones here:
Network
As we all know the year 2020 has completely transformed our ways of living and working. With more people sitting and working from the comfort of their homes, almost all networks, including AT&T wireless internet experienced a major spike in traffic. However, AT&T is committed to managing this sudden burden on network capacity and claims it will continue to provide seamless and high speed internet services to users. Anyhow, network capacity is a key factor that must remain a consideration for you.
Speed
With AT&T wireless internet plans you can enjoy seamless download speeds on the fastest 4G LTE network in the U.S. The AT&T 4G LTE network can deliver you speeds up to 32 Mbps, which is more than adequate for your remote work needs, and lets you stream video content as well. One thing that you should keep in mind is that if there are a lot of people in your household using the same wireless internet connection, then you definitely need to get more bandwidth.
Data Allowances
Almost all AT&T wireless internet plans offer a certain amount of hotspot data—some give you an exclusive hotspot allowance, others offer shareable data. You can choose any of the AT&T mobile hotspot unlimited data plans we talked about earlier—with as much data allowance as these plans allow, you may as well find all your needs and wants covered.  
Bottom Line
There is no denying the fact we have seen some of the best internet packages in 2020 from AT&T internet. If you want to get AT&T mobile hotspot unlimited data plans, we would suggest you first understand your internet data and speed needs.
If you are unaware about the features and specifications of your current internet connection, don't worry. This is common information and you can extract it from your online accounts or past internet bills. However, if none of these options is available you can ask your current provider to help  you with these details. Knowing what you are getting currently, will help you make an informed decision before you switch.
AT&T wireless internet plans allow you to enjoy unlimited calls, texts, and data—you can stream and indulge in other activities without a care. Getting an AT&T mobile hotspot unlimited data plan is definitely the best option if your monthly internet usage falls within the data range offered by these plans.
We would also recommend you to learn more about  AT&T Wireless. For answers to any questions, contact AT&T customer service at 855-925-2541.