As the temperature drops and the holiday season approaches, all we want to do is curl up by the fireplace with a hot cup of cocoa, and of course, watch as many movies as we can. After all, there's nothing like a cold winter night spent getting comfy on the couch and enjoying the perfect Christmas movie marathon while stuffing your face with candy corn. And if you are counting on the festive season to serve you brilliant period dramas to watch, we've rounded up the best old-school and classic Christmas period dramas to add a little more holiday joy to your lives. So let's get started!
Pride and Prejudice (2005)
Joe Wright's adaptation of Pride and Prejudice is the best version of the iconic Jane Austen novel. A lovely, sparkling romance with no violence. The movie is well-cast from top to bottom, and stars Keira Knightly and Matthew Macfadyen in the roles of Elizabeth Bennet and Mr. Darcy, respectively. The film came out in 2005 and was widely popular for its stunning visuals, impeccable acting performances, and wholesome romance between the lead characters. Even after 17 years of its release, this movie never fails to win the hearts of its audience.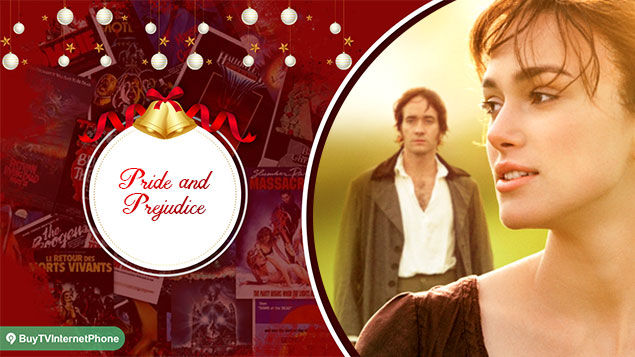 The movie is set in nineteenth-century England and follows the relationship between Elizabeth Bennet— the daughter of a poor countryman—and Fitzwilliam Darcy—a rich aristocrat. Their captivating relationship is faced with many turns as they both are faced with their inner vices of pride and prejudice. The story beautifully explores the social mores of the time and provides a contrast between the quest for love and the economic benefits of marriage into a wealthy family for women at a time when they were unable to inherit property or earn a living.
Little Women (1994 & 2019)
Little women is considered one of the finest literary works, which has been adapted to the big screen several times. The 2019 version—starring Emma Watson—is the seventh adaptation of the 1868 classic novel.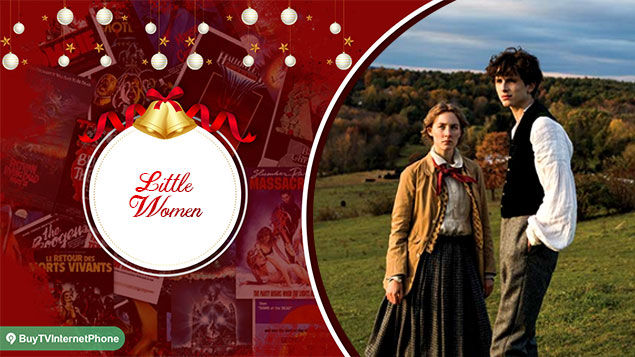 Little Women is the story of four sisters—Meg, Jo, Beth, and Amy—whose father has gone off to fight in the American civil war. Having lost most of their fortune, the March sisters along with their mother move to a new neighborhood. The 1994 adaptation stays truer to the classic novel and divides pretty evenly between when the girls were younger and when they were grown up. However, the 2019 version draws inspiration from the novel and the personal writings of Alcott. It focuses more on the girls when they were young adults, and traces their lives after going away from their homes. This coming-of-age novel explores the themes of poverty, independence, love, and finding one's place in life.
A Little Princess (1995)
Based on the novel written by Frances Burnett, A Little Princess is one of the many adaptations of the classic children's book. This 1995 American family drama film—directed by Alfonso Cuaron and starring Liesel Mathews and Liam Cunningham—is magical and dramatic at the same time. The movie takes a fair bit of creative liberties from the original novel but makes for an excellent watch.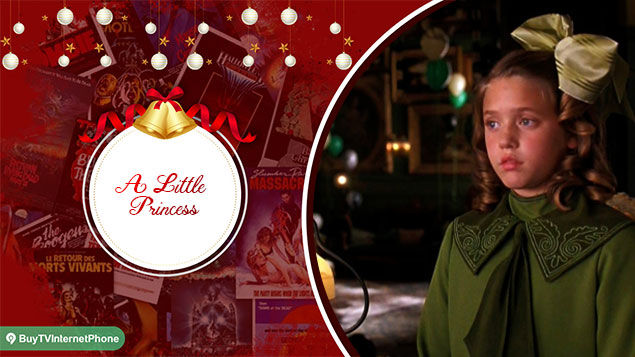 This movie was set during WWI and follows the life of a formerly wealthy young girl who is trying to navigate life in a strict New York boarding school after receiving the news of her father's death. It shows that all little girls can be princesses regardless of race and appearance. An incredible movie of hope and friendship that just never moves out of the interesting-to-watch spot.
The Chronicles of Narnia: The Lion, the Witch, and the Wardrobe (2005)
Christmas and Disney movies are a perfect combination for a wholesome holiday viewing experience. Based on the beloved C.S Lewis novel of the same title, The Chronicles of Narnia takes you on an exciting and thrilling adventure. The movie revolves around the life of four Pevensie children—Peter, Susan, Lucy, and Edmand. While playing hide and seek, the youngest sibling ventures into a wardrobe that opens directly into the magical land of Narnia.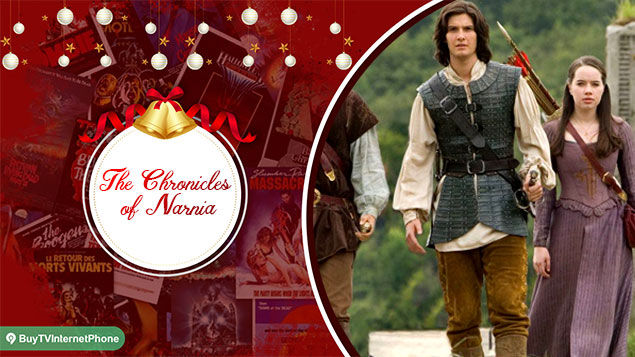 Narnia is a mystical land inhabited by dwarfs, centaurs, giants, and beasts of all kinds. The once peaceful and utterly beautiful Narnia has turned into a winter land ever since a wicked witch put her spell on it. The siblings embark on a journey to defeat the queen and save the land—with help from Aslan, the lion. The breathtaking visuals and captivating storyline make the chronicles of Narnia the perfect Christmas watch.
Sense and Sensibility (1995)
This 1995 adaptation of Jane Austen's classic novel is directed by Ang Lee and features Kate Winslet, Emma Thompson, Alan Rickman, and Hugh Grant in lead roles. Sense and Sensibility movie, made with love and wit, received great commercial and critical praise upon its release. Thompson wrote the screenplay for this film and won the Academy Award for best-adapted screenplay.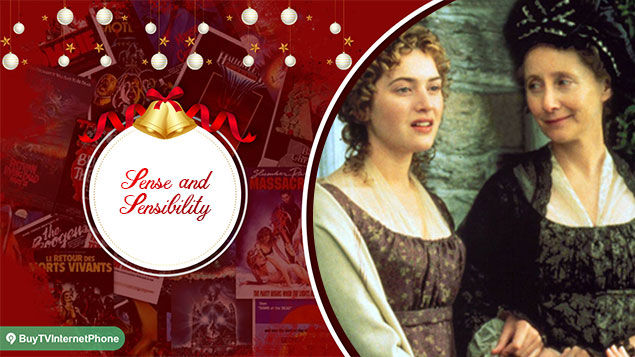 The story follows the life of the Dashwood sisters who are faced with poverty after their father passes away and his wealth and the estate is passed on to his son from a previous marriage. The sisters must rely on marriage for financial security—a major theme of Austen's work. The movie does an excellent job of drawing out all of the subtle and significant themes in family sagas about love. The stormy, muted aspect of the English countryside, simple costumes, and incredible interplay between the characters steal the limelight—making it a movie worth watching.
A Christmas Carol (1999)
Adapted from the beloved Charles Dickens novel, A Christmas Carol is one of the most iconic Christmas movies of all time. In this 1999 adaptation, the story revolves around Ebenezer Scrooge—a mean-spirited miser who dislikes Christmas. On Christmas Eve, the ghost of his former business partner appears and warns him to correct his ways, or he will suffer a terrible fate. Scrooge is visited by the three ghosts who show him his past and present. Scrooge realizes how he has acted and wakes up with a new outlook on life.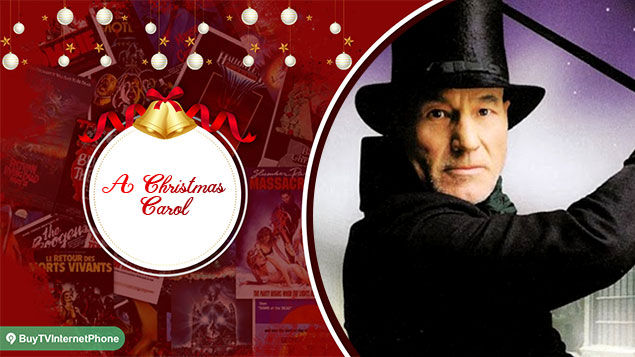 Emma (2009)
Set in Regency-era England, Emma is another critically acclaimed Jane Austen classic. It follows the story of Emma Woodhouse, a beautiful and wealthy woman living with her father. Emma dabbles into the romantic lives of those closest to her to pass time—without truly realizing the outcome of her actions. Filled with excellent performances and witty dialogues, this serial adaptation of the Jane Austen classic is a great Christmas watch.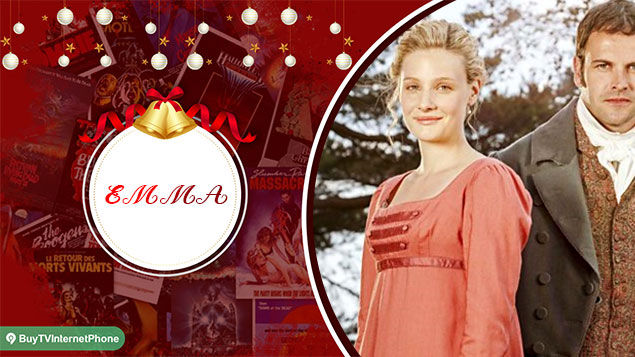 A Silent Night (2021)
A Silent Night is set against the backdrop of WW2 and is loosely based on real events. The story revolves around a German family seeking refuge in a hunting cabin in the Ardennes forest. On Christmas Eve, the family encounters a few American soldiers, who initially plan to kill them. But upon mother Elisabeth Vincken's request, the soldiers agreed to spend Christmas Eve in peace. This movie captures the Christmas spirit beautifully and makes for the perfect watch with family.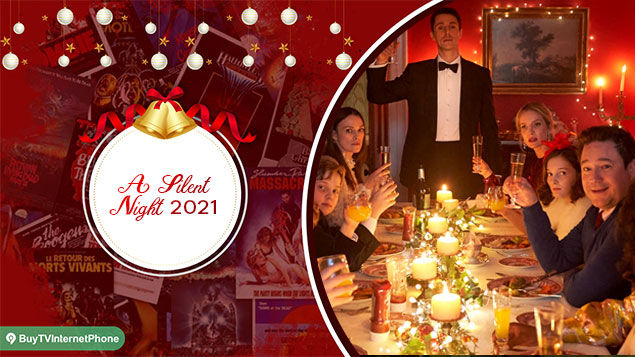 Edward Scissorhands (1990)
Starring Winona Ryder and Johnny Depp, Edward Scissorhands is a 1990 American fantasy romance film—one of Tim Burton's finest works. Technically, it is not a period film, but there is something highly nostalgic and classy about the movie. It tells the tale of a young lad, Edward—with scissors for hands—who falls for a beautiful young woman, Kim. The movie was a critical and commercial success, and got nominated for numerous awards. It is a must-watch for anyone who enjoys the horror, gothic, and fairy tale genre.
Dickensian (2015)
If you enjoy the works of Charles Dickens, this 20-part series is a delight to watch. Dickensian is set in 19th-century London, where several characters from different Charles Dickens novels cross paths. You will see iconic characters like Scrooge, Amelia Havisham, and Fagin interact together in one Victorian London neighborhood. It is like the multiverse of madness!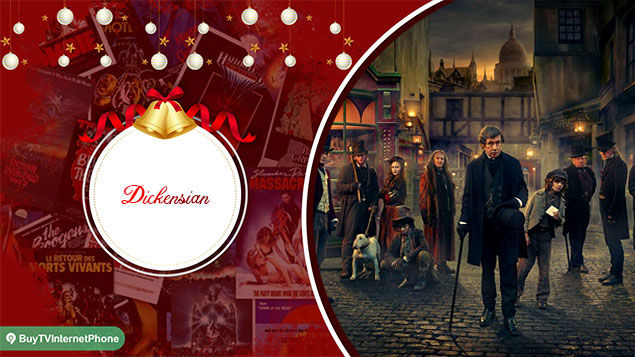 The Knight Before Christmas (2019)
If you want to watch something lighthearted and romantic, The Knight Before Christmas is the perfect pick. This story revolves around the characters of Sir Cole Christopher and Brooke Winters. The former is a medieval knight transported to the present-day Bracebridge from 14th century England, where he meets the gorgeous Brooke. Brooke winters, on the other hand, is a high school science teacher who is utterly unimpressed by the idea of love. Although Cole's manner of speech and behavior is odd to everyone in Brooke's circle, they gradually start finding him rather endearing. This movie is the perfect combination of comedy, magic, and romance.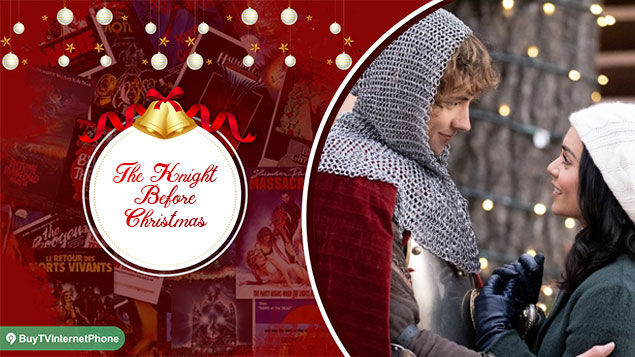 An Old-Fashioned Christmas (2010)
If you enjoy the work of Louisa May Alcott, An Old-Fashioned Christmas is a must-watch. It is the TV movie sequel to "An Old-Fashioned Thanksgiving, and stars Catherine Steadman and Jacqueline Bisset in the roles of Tilly and her grandmother, respectively. The story revolves around these two ladies paying a visit to Ireland in hope of getting Tilly's work published with the help of an old friend. Only to learn that the best Christmases are spent with each other. With a festive background and a love triangle, an old-fashion Christmas is a great watch for the holiday season.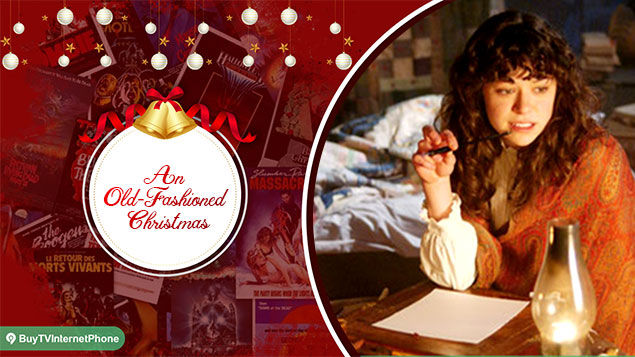 Bleak House (2005)
This limited series is based on the critically acclaimed Charles Dickens novel published in 1853. The story revolves around a long-running legal battle in the Jarndyce family. It is very Dickensian for its sociopolitical commentary on the broken legal system and class differences. Even though all ends well, there are several twists and turns in the tale which keep you on the edge of your seat. If you enjoy a good mystery movie, you will enjoy Bleak House.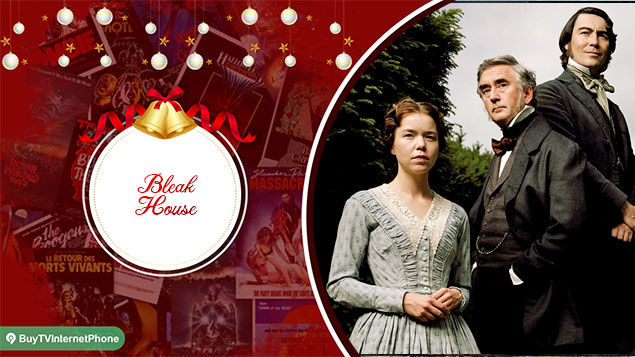 The Personal History of David Copperfield (2019)
The Personal History of David Copperfield is a comedy movie—directed and written by Armando Lanucchi—based on the classic Charles Dickens novel. Starring Dev Patel, Peter Capaldi, and Hugh Laurie, this Christmas drama is fabulously well-paced, stylish, and funny. The exceptional lead performance by Dev Pate and the Dickensian charm of the movie makes it a must-watch for all those who enjoy a good period movie.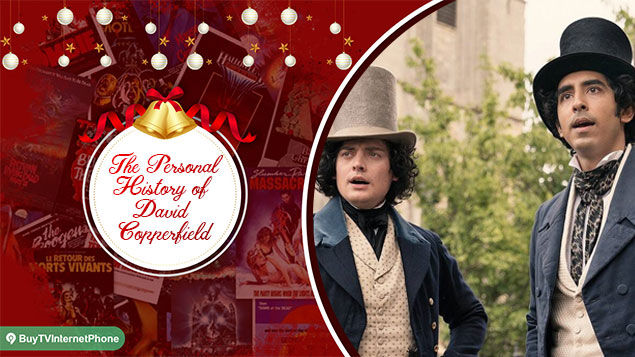 The Man Who Invented Christmas (2017)
The Man Who Invented Christmas is a biographical comedy film that follows the journey of Charles Dickens and tells the tale of what inspired his famous novel 'A Christmas Carol'. Dan Stevens plays the role of Charles Dickens and his performance is one of the highlights of the movie.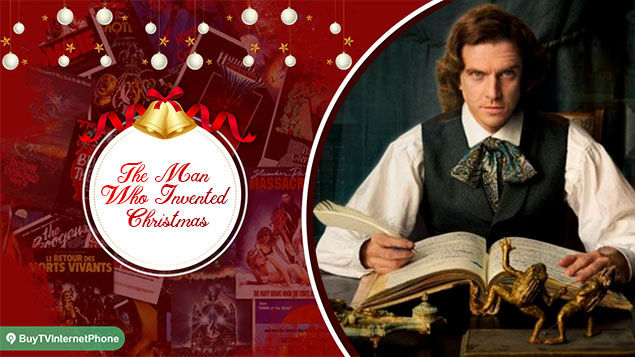 There You Go!
The holiday season is for relaxation, and streaming Christmas-period dramas is the perfect way to unwind. Period pieces are widely loved for their romanticized portrayal of an era we have not witnessed. Although they depict a glamorized and lavish image of the wealthy upper-class families of the regency era, period dramas also offer subtle commentary on poverty, class difference, and the patriarchy of the pre-feminism times. They make for a great watch, whether you like them for their grandeur, escapism, or insightful socio-political commentary.
FAQs
Where Can I Watch Christmas Period Dramas?
Popular streaming services like HBO Max, Netflix, Hulu, and Amazon Prime offer a great lineup of Christmas period dramas that you can watch. You can also subscribe to DIRECTV, Spectrum TV, or Optimum TV to access exciting Christmas dramas, movies, and TV shows this holiday season.
Which TV Channel Offers the Best Christmas Content?
Hallmark, ABC, Lifetime, INSP, E! Entertainment Network, CW Network, CBS, BET, Freeform, and Great American Family are the best go-to channels for Christmas content. If you subscribe to Spectrum TV, Cox Contour TV, Xfinity, Direct TV, or Xtreme powered by Mediacom, the most popular cable channels will come included in your channel lineup at no extra charge.
Can I Watch Christmas Movies on Satellite TV?
Yes, you can! DIRECTV is the #1 satellite service in the U.S., offering four unique plans to choose from. For movie lovers, DIRECTV Ultimate is the safest bet with 270+ Live channels and 60,000+ on-demand titles.