From paper cards to ecards, for all occasions that America loves to celebrate, Hallmark is a name that does not need an introduction. And the legacy of Hallmark Cards Inc., to become part of people's lives on special occasions, is carried forward well by the Hallmark Channel―a network favorite that operates under Hallmark's "corporate wings".
Be it the cold and dreary winter setting in, and Christmas approaching. Or the time for love-birds to take a break from their high-strung and fast-paced daily grind to just celebrate love and life. The Hallmark Channel is always there! Making it so much fun to catch the festivity fever, and just chill out with anything from heart-warming rom-coms to intriguing mysteries―not to forget, some of the best Valentine's Day movies.
Today, we talk about "Hallmark's 2023 Loveuary"―the channel's lineup for Valentine's Day movies this year, and your best streaming options to enjoy the season of love in full swing!
#1 Sweeter Than Chocolate  
Click here to watch trailer
A holiday rom-com that stands out among the "feel good" and "happily ever-after" movies which are usually good food for mindless joy or light-hearted fun―but do little to stir the depths of authentic emotion.
This Hallmark movie is about Lucy―a chocolatier, who sells special chocolates. Her family legend tells these special chocolates can help you find true love―albeit with an "if". And, the "if" is you've got to keep an open mind and heart! Lucy is a true believer―the reason why she has never had a taste of her own chocolates―she is scared of the hurt she has seen love bring with the loss of the beloved, and doesn't want to find herself in that heart-wrenching spot. But that is until she encounters Dean―an aspiring reporter, whose innate cynicism makes it hard for him to believe the "chocolate legend", but he must do a "feel-good story" to explore better professional opportunities.
It's a story-line driven by internal conflicts that both Lucy and Dean face as they are forced to work together―he must make an impression with his journalistic venture, and she must sell more chocolates to cover business overheads. And through the course of their partnership, as unwilling as each is, they fall in love.
Watch to discover if the shy and vulnerable Lucy and ambitious and cynical Dean discover the courage and faith it takes to traverse the unchartered territory of love.
The movie was aired of the first weekend of February―but if you've missed the premier, chances are you'll still be able to catch it On Demand with a subscription to the Hallmark Channel.  
#2 A Paris Proposal

Click here to watch trailer
Anna is in Paris―the City of Lights, Love and Perfume―on a mission to win their biggest client yet for her NYC based advertising agency. She can climb up the ladder of ambition if she wins the ad-account of the famed Durand Diamonds. But to her dismay, she is dispatched to Paris in the company of her colleague Sebastian, who hails from Paris.
The two do not share a common approach to work―Anna goes by the book, and Sebastian likes to dazzle with out-of-the-box ideas resulting in clashes when his proposals turn out to be too expensive and land them in a difficult place. To make things worse, during this latest professional venture, the Durands take the two for a happily married couple―and are excited about having real-life partners leading the creative vision for their celebrated brand.
So how well do Anna and Sebastian keep up appearances, so as not to disappoint their biggest client yet? Do Anna's memories of Paris with her ex-husband or Sebastian's family coming into the picture, complicate the circumstance further? Or does the most romantic city in the world lends the magic of love to their work-partnership as they get to know each other better?
Watch A Paris Proposal on Hallmark Channel on Saturday, February 11, 2023. And, if you cannot catch the premiere, you may as well be able to watch it on demand with a subscription to the Hallmark channel.
#3 Welcome to Valentine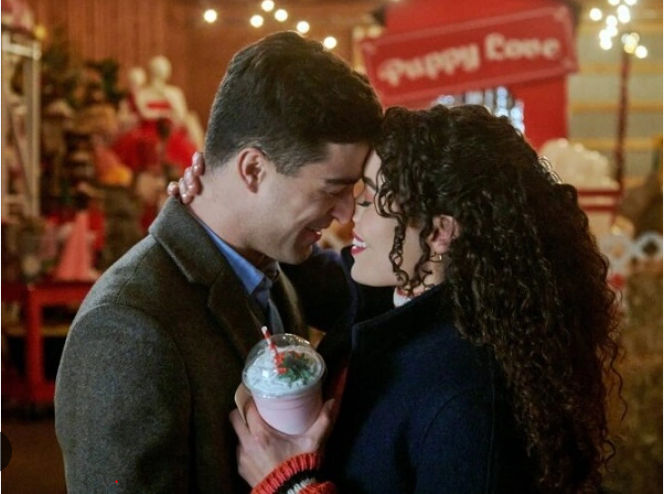 Click here to watch the trailer
It may be a story-line not too unfamiliar, but sounds like its got the sweetness of love to it, and also the bitterness of the realities of life―exactly the paradox that enhances our understanding of our own selves and the worth of love. At times it's the down phase of our life that makes us realize the new direction our rather quiet personal growth has taken us in, and a seemingly dreadful circumstance lands us in the new place where we now ought to be!
Olivia loses both her boyfriend and job just around Valentine's Day―things couldn't have looked more grim. But was it really such a hopeless circumstance with no light at the end of the tunnel? Or was there a sliver lining on the dark cloud of this unhappy time in Olivia's young life?
Well, that's exactly what she is about to find out as she hitches a ride with George to Valentine, Nebraska―her hometown where she is headed to after her sister convinces her to make the move from New York City. With thinning finances she wants to save the expense of travelling. And, commits to lend George, her roommate's friend, free accommodation for the night for driving her home, before he continues his journey to Los Angeles.
Watch Welcome to Valentine on Hallmark Channel, on Saturday February 18, 2023―and discover what the dawn of personal realizations has in store for Olivia and George, as their car breaks down on the way!
Made for Each Other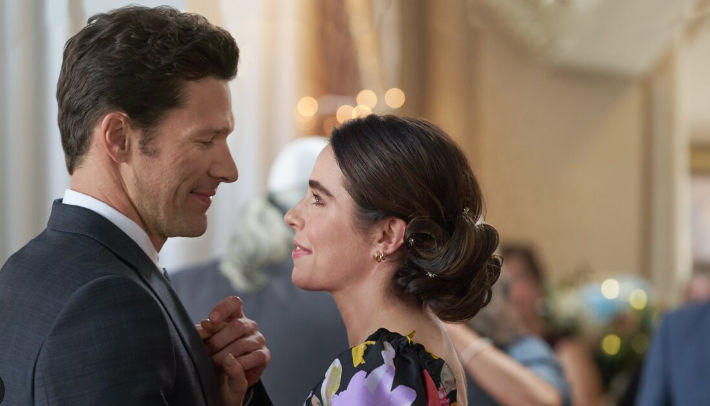 Click here to watch the trailer
Made for Each Other―yeah! But is it David or Clay that the perfectionist sculptor Rachel was made for?
Don't let your inner skeptic get ticked off by the rather clichéd name of the Hallmark Channel movie―perhaps the paradox of human emotions and the dilemmas of love in Rachel's life have more to engage your attention, and emotion than the name suggests.
Rachel has long-looked for the perfect man to be her life partner―but to no avail. Her perfectionist nature is all too unwilling to accept the imperfections that make us human. But little does she know how Clay―the life-sized sculpture of a man that she has carved and that has been brought to life by the legend of the Jewish Golem―will lead her to an authentic and life-transforming realization.
David enters the picture of her life with all the colors of his "human-ness", and contrasts with Clay's character that Rachel has created to fit her notion of a perfect man. But, soon Rachel finds herself caught up with feelings for both―the perfect Clay she had sculpted, and the not-so-perfect human, David.
Will Rachel at last give up the quest for perfection that Clay embodies? Will she realize it is the acceptance of our imperfections that makes the experience of love so authentic and real?
Watch Made for Each Other on Hallmark Channel, on Saturday, February 25, 2023―and see how Rachel's quest for a perfect partner comes to an end.
Your Options to Stream Valentine-movies on Hallmark Channel
The Hallmark Channel is one of the American favorites on Cable―the reason why the bigwigs of U.S. Cable service industry, Xfinity, Spectrum, Cox, Optimum and Mediacom, all carry the network in their channel lineup.
But if you don't currently hold a cable TV subscription, and would rather just quickly sign up for a streaming service to catch the upcoming premiers of Valentine-movies on Hallmark Channel, there are ready-to-go options with no time lost, and no strings attached.
#1 Hulu + Live TV
Check out Hulu + Live TV which now gets you Unlimited DVR at no extra cost―you can cancel anytime. The ad-supported version costs $69.99/mo. You get full access to the entire Hulu streaming library and also your favorite live TV networks―like the Hallmark Channel.
Click here to order Now!
#2 Hulu + Live TV with Disney+ & ESPN+
Want to explore the Hulu + Live TV bundle with Disney+ and ESPN+ instead? Go ahead and get the 3-in-1 streaming package that gives you so much more for $69.99/mo., when you sign up for the ad-supported version. No contracts; cancel whenever you want!
Click here to order NOW!
#3 DIRECTV via Internet
DIRECTV via Internet gives you access to 75+ live TV channels in its starting package, and access to thousands of on demand titles. For $69.99/mo. and no contracts, it makes one of the most value-added options to go for―especially with its limited time premium network offer.
Click here to order NOW!
#4 Peacock
And if you're looking for a to-the-point budget option, there is none better than Peacock from NBC Universal. The ad-supported version costs you only $4.99/mo. and gives you access to 50+ always-on-channels―and so much more!
And if you don't want to put up with the ads, go with the $9.99/mo. option that also allows you to download and watch select content offline, and lets you tune into your local NBC channel as well.
Click here to learn more!
A Few Last Words…
Before we close, let's add if you're going to stream Valentine-movies on Hallmark Channel, don't forget to make sure you do it on a fast and reliable connection―after all, there is no fun watching a buffering loop on your screen when you're all set to kick start the much-awaited celebration of love.
As it is, a poor internet connection is a great cause of frustration under any circumstance, let alone when you're planning to start a Valentine-streaming session. May be this Valentine's Day you could also give yourself the gift of a fast and reliable connection with a new internet service provider?
If that is the case indeed, don't hesitate to call in at 855-349-9328 to check out your options and get set up with a new internet service as soon as can be!