If you are looking for a stellar range of entertainment choices and an advanced TV experience, then Mediacom Xtream TV is going to be your savior. Mediacom Cable has worked persistently over the years to make provision of lightning-fast hybrid fiber-coaxial internet, a modern cable TV, and digital home phone service an affordable reality for millions across its 22 service states.
Today, Mediacom subscribers get to relish value-packed services and an exhaustive Mediacom channel lineup at reasonable price points. And to sweeten the deal, the provider offers its TV service bundled with Mediacom Internet – you can also add the digital home phone to enhance the value of your investment. Mediacom's lucrative Double Play and Triple Play bundles are value-packed and ensure you stay on track with your monthly budget while enjoying high-quality services.
The Xtream TV channel lineup includes networks that are favorites in the average American household. Mediacom's most popular Variety TV plan has over 170 channels, with every channel catering to the different likings and preferences of everyone in your household. You will never run out of top-tier entertainment with the impressive Variety TV channel lineup that includes household names like HBO, ESPN, ABC, PBS Kids, CBS, and NBC.
So if you are planning to or have subscribed to Mediacom TV, then you must dig deeper into the service with this Mediacom channel guide so as to make the most of your subscription.
Whether you're content with local programming, love staying updated with current affairs, are a movie buff or a diehard sports fan — with well-crafted Mediacom TV packages, you can relish whatever you feel watch-worthy without stressing your wallet! The incredible Mediacom channel lineup revamps your entertainment box with an exhaustive list of programming for the entire family.
Variety TV Channel Lineup
The following Mediacom channel lineup is unique to the Variety TV plan and packs loads of options; however, it is not entirely exhaustive and does not show the HD counterparts of the available channels, which are freely accessible. Moreover, remember that channel availability may vary across zip codes. For an accurate and thorough list of channels in your area, call 855-349-9315.
| | | |
| --- | --- | --- |
| ABC | A&E | AMC |
| Animal Planet | Bally Sports Midwest | Bally Sports Midwest Plus |
| BBC America | BET | Big Ten Network |
| Bounce TV | Bravo | Cartoon Network |
| CBS 8 | CBS Sports Network | Catchy Comedy |
| CMT | CNBC | CNN |
| Cozi TV | C-SPAN | Cyclones.tv |
| Daystar | Discovery Channel | Disney Channel |
| Disney Junior | E! | ESPN |
| ESPN2 | EWTN | Food Network |
| FOX | FOX Business Network | FOX News |
| Freeform | FS1 | FS2 |
| FX | FX Movie Channel | FXX |
| getTV | Grit | Great American Family HD |
| Great American Living | Hallmark Channel | Hallmark Movies & Mysteries |
| HGTV | History | HLN |
| HSN | HSN2 | IFC |
| INSP | Investigation Discovery | ION Television HD |
| JTV | Justice Central HD | Lifetime |
| Lifetime Movies | Magnolia Network | Marquee Sports Network |
| MC22 | MeTV | Motor Trend HD |
| MSNBC | MTV | Music Choice 70s |
| Music Choice 80s | Music Choice 90s | Music Choice Adult Alternative |
| Music Choice Alternative | Music Choice Blues | Music Choice Classic Country |
| Music Choice Classic Rock | Music Choice Classical Masterpieces | Music Choice Contemporary Christian |
| Music Choice Country Hits | Music Choice Dance/EDM | Music Choice Easy Listening |
| Music Choice Gospel | Music Choice Hip-Hop and R&B | Music Choice Hip-Hop Classics |
| Music Choice Hit List | Music Choice Indie | Music Choice Jazz |
| Music Choice Kidz Only! | Music Choice Light Classical | Music Choice Love Songs |
| Music Choice Max | Music Choice Metal | Music Choice Mexicana |
| Music Choice Musica Urbana | Music Choice Party Favorites | Music Choice Pop & Country |
| Music Choice Pop Hits | Music Choice Pop Latino | Music Choice R&B Classics |
| Music Choice R&B Soul | Music Choice Rap | Music Choice Reggae |
| Music Choice Rock | Music Choice Rock Hits | Music Choice Romances |
| Music Choice Singers & Swing | Music Choice Smooth Jazz | Music Choice Soft Rock |
| Music Choice Solid Gold Oldies | Music Choice Sounds of the Season | Music Choice Soundscapes |
| Music Choice Stage & Screen | Music Choice Teen Beats | Music Choice Throwback Jamz |
| Music Choice Today's Country | Music Choice Toddler Tunes | Music Choice Tropicales |
| Music Choice Y2K | National Geographic Channel | Newsmax |
| NewsNation | Nick Jr. | Nickelodeon |
| OWN | Oxygen True Crime | Paramount Network |
| PBS | PBS KIDS HD | QVC |
| QVC Plus | Quest | RFD-TV |
| Rewind TV | ShopHQ | ShopLC |
| SonLife | Sundance TV | Syfy |
| TBN | TBS | Telemundo |
| Tennis Channel | The CW 23 Network | The Weather Channel |
| TLC | TNT | Travel Channel |
| truTV | TUDN | TV Land |
| UniMÁS | Universal Kids | Univision |
| USA Network | VH1 | VICELAND |
| WE tv | Zona Futbol TUDN | |
The TiVo-powered Xtream TV service comes with a comprehensive On-Demand library that you can access with the Xtream TV app. From the latest blockbusters to old classics and special programming, you will find everything in the exhaustive list of on-demand titles with Mediacom cable TV service.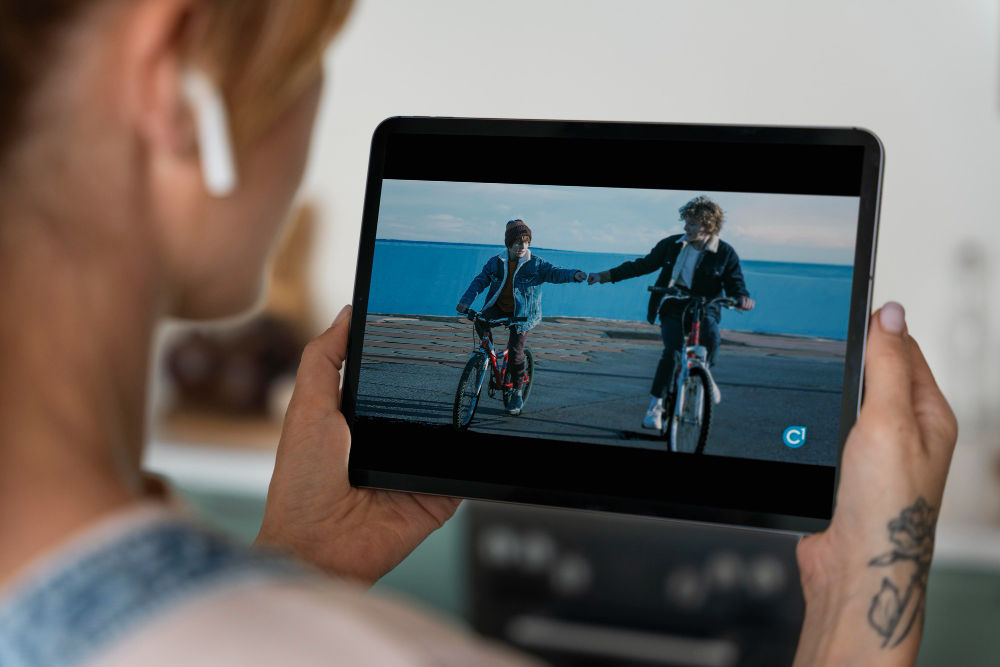 Mediacom Cable TV channels are intuitively curated as part of user-friendly plans and packages to ensure subscribers across America get top-notch entertainment at pocket-friendly rates. Mediacom TV takes your home entertainment to a whole new level by offering an abundance of high-tech features and perks.
The Mediacom channel lineup comes brimming with diverse programming, thousands of On Demand titles, and a Mediacom HD channel lineup— so, the entire family can have maximum fun around the TV screen. Plus, you can opt for premium networks. There are plenty of add-on options designed to jazz up your good ole TV set!
Whether it's the cutting-edge DVR service or the smart search & guide powered by TiVo®, the voice-controlled Xtream Voice Remote, or the handy Xtream TV app, your idea of entertainment is going to take a 360 degrees flip with the charm of the futuristic Mediacom televisual experience!
TiVo® DVR
The fun-filled Mediacom cable TV packages are furnished with the ingenious TiVo® DVR service that's designed to fuel your binge-watching! The TiVo® DVR lets you record your favorite shows up to a whopping 1,000 SD hours!
Plus, with TiVo® DVR Multi-Room service, you can record and watch anything binge-worthy — start watching the latest episode of your favorite series in one room and finish it off in another, right from where you left off!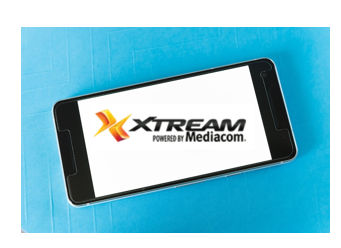 Xtream TV App
Want to add some zest to your commute while running errands? With the Xtream TV app, you can get your entertainment fix anywhere, anytime. Whether you want to get Live TV updates, sieve through different programming options from your Mediacom channel lineup, or watch recorded content — just install the FREE Xtream TV app on your smart device, and let your eyes feast upon the content of your choice!
TiVo ® Smart Search & Guide
Digging into a plethora of Mediacom channels and as many programming options can be a daunting task. Luckily, Mediacom frees its cable TV subscribers from the hassle of tiresome channel searches with TiVo's state-of-the-art on-screen guide. Just enter a description or a title and TiVo® will swim through the enormous list of available programming, Xtream On-Demand, and every available web streaming app in your Mediacom package — and bring you exactly what you desire!
Xtream Voice Remote
If you're too tired to even press the remote buttons, why not 'tell' it to hop through channels for you? With the innovative Xtream Voice Remote by Mediacom, it's quite possible. Just activate the microphone on the remote to play your favorite show, skip ads, or switch to a different app.
We sincerely hope that this Mediacom channel guide helped you find the answer to all your entertainment queries and concerns. If you need to know more about the Mediacom channel lineup that's offered in your area, you can contact Mediacom customer service. However, in case you have already made up your mind to get your hands on the juicy Mediacom cable TV channels, either call 855-349-9315 or buy Mediacom online as per your convenience.
What channel is Fox on Mediacom?
The FOX channel numbers differ based on your location. Read this complete guide on FOX on Mediacom or enter your zip code in the online zip tool to find the accurate Mediacom channel number at your location.
What channel is ESPN on Mediacom?
Find the channel number for ESPN on Mediacom with this guide. The Mediacom channel number may vary based on your location. Therefore, use the online zip tool here to find ESPN on Mediacom in your area.
What channel is ABC on Mediacom?
The channel number for ABC on Mediacom may vary based on your location. Find your Zip code in this Mediacom guide or use the zip code tool here.
What channel is CBS on Mediacom?
The CBS channel number on Mediacom may vary based on your location. Read this guide to find CBS on Mediacom, or use the online zip tool to discover the CBS channel number on Mediacom in your area.
Where can I find Mediacom Channel Lineup Guide?
Use the Xtream TV Smart Search & Guide feature to find your favorite channels from the Mediacom channel lineup. The TiVo-powered smart guide lets you use keywords, titles, and descriptions to find your desired channels. To subscribe to available Mediacom TV plans in your area, call 855-349-9315 .
Read more on Mediacom!