Finding an authentic Mediacom router does not necessarily have to be a challenging task. Getting the right one can be difficult because not all devices are compatible with Mediacom. You will find a variety of routers with distinctive features and specs available in the market. If you want a router that offers smooth connectivity for your Mediacom connection, you've come to the right place.
In this article, we have listed the top Mediacom routers to help ease your decision-making process. So, let's get started!
Best Routers for Mediacom
Here are the best Mediacom routers that promise to give you excellent performance:
TP-Link Archer AX90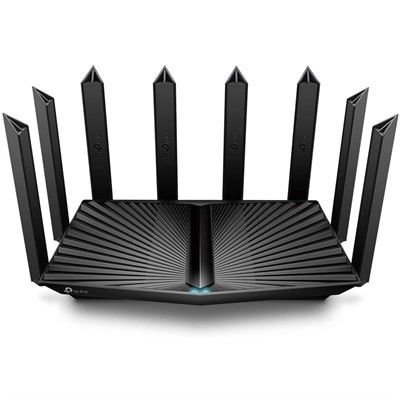 Besides its bleeding edge capabilities, the AX90 is known for its polarizing aesthetic—thanks to its eight antennas. Once you look past this, you will find that it is one of the best routers in the market. TP-Link built the AX90 with Wi-Fi 6, 160MHz channels, and tri-band Wi-Fi—a perfect combo. It comes with a Wi-Fi range of 2500 square feet, meaning you can have all the internet you want in a large space. Combine this with the ability to connect up to 40 devices and you have a standard internet machine.
When this is combined with Mediacom internet, consider it bandwidth galore. Using its smart connect feature, a device will automatically connect with the fastest bandwidth. Using both 5GHz and 2.4GHz bands, this dual-band router sets itself apart by offering immense value for Mediacom internet customers.
If you opt for a wired connection, the Archer AX90 comes with a 2.5GHz WAN port. This will facilitate ling aggregation that gives you multi-gig internet speeds. When connected to a GigE LAN port, download speeds can reach up to 990 Mbps. What does this mean? This router is a unit and a half, capable of taking on anything you throw at it. There is a reason it is regularly considered the best in class whenever compared to other routers. The TP-Link Archer AX90 is the prime candidate to combine with a high-tier Mediacom internet plan. Wi-Fi 6 and triband Wi-Fi capabilities allow for a smooth, seamless, and lightning-quick internet connection.
Netgear Nighthawk RAX43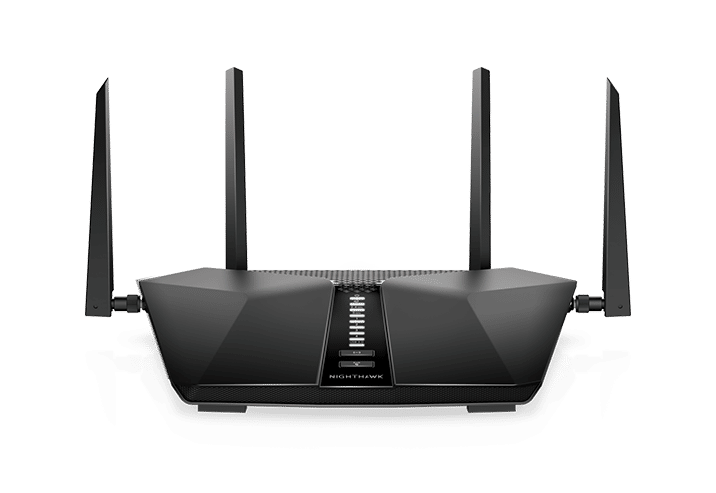 Coming in at a close second place is the Netgear Nighthawk RAX43. This router is touted as one of the finest mid-range Wi-Fi routers on the market. Compared to its predecessor, the RAX40, the RAX43 offers improvements in speed, throughput, and coverage among others. This router is no slouch and looks like a more tame version of the TP-Link Archer AX90 with half the number of antennae.
It comes with Wi-Fi 6, 2.4 GHz & 5GHz bands, support for up to 25 devices, and much more. This is just the tip of the iceberg and it already seems like an incredible deal. With its 2500 sq. ft. range, you will never have to worry about not getting a strong signal no matter where you are. If you've a 1 Gig Mediacom internet plan, this router has the potential to offer up to 902 Mbps download and 29 Mbps upload on the 5 GHz bands. On the 2.5 GHz band, it is capable to deliver 512 Mbps download and 24 Mbps upload. This was for wireless connections. When you plug in the Ethernet cable, download speeds may hit up to 912 Mbps while upload speeds may go as high as 30 Mbps. Of course, wired connections offer more value than wireless connections.
When the Nighthawk RAX43 works with a Mediacom internet connection, it has been shown to perform incredibly well across both bands. Using the 1 Gig plan, it showed a 902 Mbps download and 29 Mbps upload speed on the 5GHz band.
ASUS RT-AX86S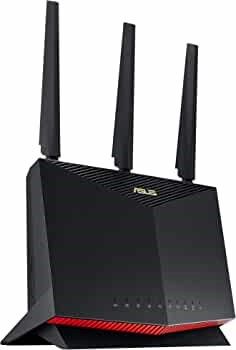 The AUS RT-AX86S is dubbed the best router for gaming. For starters, the RT-AX86S uses NAT port forwarding, device prioritization, 1024-QAM, and OFDMA among other features. These features directly help make your network more efficient and faster. The RT-AX86S has earned it the moniker of the best router for gaming as proven by internet speed test results.
With a 1 Gig Mediacom connection on the 5GHz band, it is capable to return a 921 Mbps download along with a 31 Mbps upload speed. For devices 30 or so feet away, it can record 747 down and 26 up speed. On the 2.4 GHZ internet band, it can deliver up to 732 Mbps download and 26 Mbps upload speeds. This is a respectable number owing to the highly congested 2.4GHz band. For any gamers out there, these numbers are a sight for sore eyes. They guarantee plentiful bandwidth, so their games never lag or stutter—the last thing that anyone wants. Moreover, if people want to play on multiple devices at the same time, Mediacom Internet and the ASUS RT-AX86S are a match made in heaven. Naturally, if you opt to use this as a wired connection, you will get even higher speeds.
An added bonus is a free lifetime subscription to AiProtection, a commercial-grade security system. It includes WPA3, parental controls, and more. Not only will you enjoy a lag-free gaming experience, but a protected connection too. The only downside, if any, is the lack of an additional port for the 5GHz band and a 2.5G WAN port.
Linksys EA8100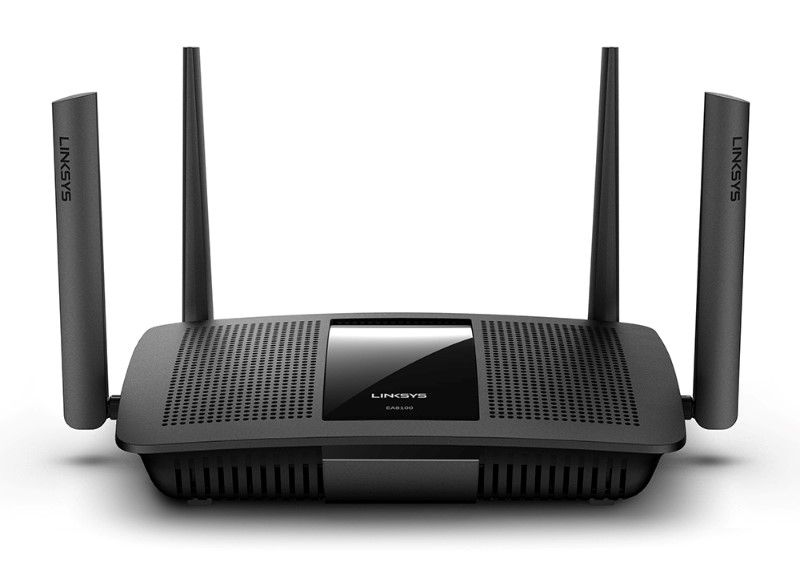 In the wake of widespread remote work, the Linksys EA8100 has emerged as a front-runner as the ideal option for a work-from-home setup. The prerequisites for such a setup would be a high-quality product that can guarantee a reliable connection at all times. Amid all your work, you may also want to take out the time to watch your favorite show in high definition. Thanks to the Linksys EA8100, this becomes possible.
Using a Mediacom internet connection, you can fully leverage these capabilities for your personal benefit. If you opt for Mediacom 300 Mbps plans, the 802.11ac Wi-Fi 5 technology works like a charm. The Linksys EA8100 is perfectly positioned to handle all your Zoom or Microsoft Teams meetings, stream content in HD or 4K, download and upload files, and so much more.
With its 4 antennas, the Linksys EA8100 can cover around 1500 sq. ft., which is more than enough for a home office. Using its Dynamic Frequency Selection (DFS) features, the router will sift through various network channels and automatically route the signal to one with low congestion. This results in a consistent signal across your devices all day. The one area where the EA8100 falls short is the lack of a proper security system. Barring the WPA2 encryption, there is nothing more to rave about in this regard.
ARRIS G34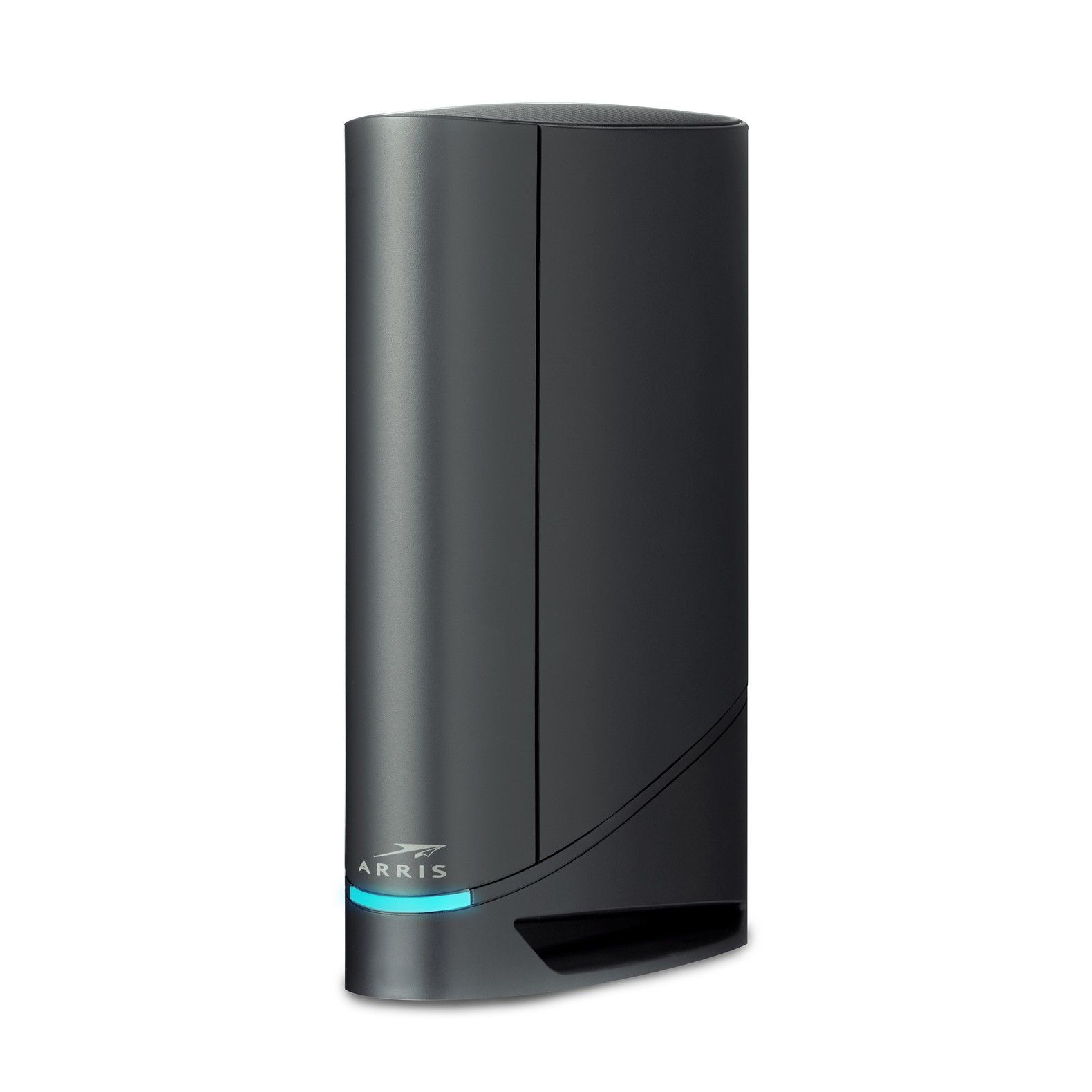 Arris G34 is a perfect router-modem combo for Mediacom internet subscribers. The modem is what receives your internet bandwidth and the router acts as an extender that spreads the signal. These are two different devices that take up space, have their own wiring, and need to be positioned correctly for ideal results.
In order to completely bypass this, this device works as both router and modem—a single device that can perform two different jobs. The Arris G34 AX3000 is one of the finer offerings available on the market. Regarding space and cost savings, they generally fall behind in the features department. The G34 is different. It is a DOCSIS 3.1-powered modem and a Wi-Fi 6 router which gives it the best of current and future technology.
The Arris G34 has the potential to cover an area of around 2500 sq. feet. With its OFDMA and MU-MIMO support, you can stream on up to 8 devices in ultra-high definition. However, the device lacks a robust and dedicated security system and only offers VPN pass-through and WPA3 encryption.
Final Thoughts
When you sign up for a Mediacom internet connection, you actually sign up for a smooth, strong, and reliable internet service with a variety of offerings including fast download speeds, generous data allowance, and Total Defense online security software. To make your experience better, you need a Mediacom router that can help elevate your internet connection.
No matter which Mediacom speed plan you opt for, there is at least one suitable model among the above-mentioned list that would perfectly fulfill all your needs.
If you still have any concerns, speak to a Mediacom Customer Service representative at 855-349-9315. Rest assured, you will get all the assistance and information you need.
Frequently Asked Questions (FAQs)
How to reset the Mediacom router?
To reset your Mediacom router, turn it off and wait for 30 seconds. After that, turn it back on. This quick reset should clear out any bugs or glitches. If the issue continues to persist, get in touch with Mediacom Customer Service at 855-349-9315.
Can I use my own router with Mediacom?
Yes, you can. However, at times, Mediacom sends automatic speed upgrades and if your device does not have the potential to deliver the upgraded speeds, you will have to get a new router to completely take advantage of those speeds.
How do I access my Mediacom router?
To access your 'Mediacom Home Network Manager', visit homewifi.mediacom.cable.com. Here, on the Mediacom router login page, you can sign in using your Mediacom credentials and access your router or change your settings.
How to change the Mediacom router password?
Go to homewifi.mediacom.cable.com and click on 'Wireless networks box'. This is found in the edit networks section. Here, you can change the name and password of your router. Enter your new password in the right box, click on the save button, and that's it.
Mediacom Availabilty on Different Cities