While owning a home is what most people desire, renting one has a ton of benefits it. The reason why a growing number of people nowadays think about the pros and cons of both homeownership and renting. For all practical purposes, renting is after all not a bad idea. It cuts down on the upfront cost, does not involve risk, you don't need to worry about its maintenance or upgrading it, there is no property tax to pay, and above all, it gives you the flexibility and freedom to move whenever you find a better place to live in or a great job opportunity. With money not locked into a mortgage, you can thus enjoy life a little more.
The one thing however which you cannot escape is having to set up your base from time to time. And mind you, there's a lot of work involved in moving. And, one of the most important tasks is finding yourself a good internet and TV package. After all, this is what keeps you connected and entertained, gives you a way to get work done, and be happy on the "bad days".
Let's then see how to go about ensuring you are able to decide on the best internet for renters as you get ready to move to a new home.
Things to Consider Before Getting Internet & TV
A home is not just the four walls defining your space. You need utilities like electricity, gas, and water as well as amenities like community spaces and laundry facilities. Most, if not all, are things the provision of which is your landlord's responsibility. But, providing internet to tenants isn't often on the list. While newer apartment complexes do consider the popularity of Cable and ensure the rented place comes pre-wired for both cable TV and internet, more often than not, this is one thing you must figure out on your own.
To help you find the perfect package here are some aspects to consider beforehand:
Network coverage of the provider if you move often
How long do you plan on staying at the rented place? This must be weighed against contractual obligations placed by some internet providers
Type of internet service, as that, plays a huge role in the performance of the connection
Your own needs and wants vis-à-vis internet and TV
Check if your new home is prewired for a certain type of internet and TV connection. Often apartment internet options come endorsed by the building complex at discounted prices.
If you do not wish to go with the already available apartment internet option, make sure the building complex allows you to have your own connection(s). This however may imply you'll be paying twice if the service(s) comes included in the rent.
Woah, that's a long list right! Well, worry not, because we'll talk about the topmost widely available offerings for TV and home internet for renters, and we hope this helps you assess which ones are the more preferred from your viewpoint.
The Best TV & Internet Options for Renters
Your best bet for a great deal is bundling your internet and TV plans which is why we've shortlisted the providers with the best bundles. Here are the providers offering some of the top TV choices and the best internet for renters:
Spectrum: The Best Overall
As we said, for a renter the most important factor is network coverage. The more service locations a provider has the easier it is to continue the service when you move. With Spectrum operating in 40 states, it is pretty unbeatable. What's more, Spectrum is free of annual contracts and even offers contract buy-out up to $500.
Spectrum Internet uses a hybrid Fiber-Coaxial cable network to deliver fast internet you can depend on. With download speeds of 300 Mbps widely available, and higher tiers offering 500 Mbps and 1000 Mbps, the service is perfect for all household sizes. And, the plans start at just $49.99/mo. making it an affordable option. The free internet modem and antivirus software, as well as free access to Spectrum out-of-home nationwide WiFi hotspots, adds great value to your subscription. Not to forget the unlimited data!
Moving on to Spectrum cable TV, it offers 1 base plan with 150, channels starting at $59.99/month. The base plan, Spectrum TV Select is customizable, allowing you to add premium networks as well as channel packs, so you can gain access to your favorite sports, news, entertainment, and even Latino channels. Subscription to Spectrum TV also gets you access to the TV on-the-go app which allows you to stream live TV and on-demand content on a number of compatible devices.
While Spectrum Sales Support is pretty responsive, what can be even more helpful is the large Spectrum community. Chances are, there is no question that hasn't been asked and answered online!
Explore Spectrum Internet & TV Packages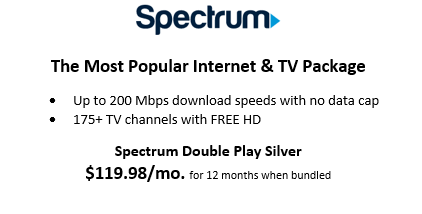 Xfinity from Comcast: The Best Value
Xfinity from Comcast is one of the biggest players in the market, offering high-speed internet services in 35 states. Again, you can rest assured, the largest Gig-speed network is likely to be available where you may move next.
Xfinity Internet plans offer speeds from 50 Mbps to 1200 Mbps over a robust hybrid Fiber-Coaxial network. In select areas, Xfinity also delivers the Gigabit Pro over a pure Fiber connection, with 2000 Mbps symmetrical speeds. Xfinity speed tiers are designed to take care of a wide range of consumer needs, that is why you find 100, 200, 400, and 800 Mbps plans in between the 2 ends of the speed spectrum. All internet plans up to 1200 Mbps include 1.2 TB data which is virtually unlimited from the perspective of standard household usage.
Xfinity cable TV plans are just as well designed. In fact, when you pair the basic Choice TV Select with Performance Select which gets you up to 100 Mbps download speeds, you can enjoy one of the cheapest double plays in the market. Beyond Choice TV Select, which comes with 10 channels, you get 2 more. Extra has a mix of 140 popular broadcast and cable networks. While Preferred brings more of that with 220 .
And, as far as contracts are concerned, you don't necessarily have to sign one. Xfinity offers a discount when your sign a 1-year term agreement. But, if you're willing to pay the extra buck, you can get the same option without a term agreement.
Explore the full range of innovative Xfinity Internet and TV services and products.
AT&T: The Best in Fiber
AT&T offers the most affordable fiber internet connection starting at just $35/month for 300 Mbps equal upload and download speeds. If you're lucky to live in an area where AT&T provides fiber internet we'd say go right ahead and bundle your TV with it. Fiber speeds max out at 940 Mbps, and you also get an in-between speed tier with symmetrical speeds up to 500 Mbps. All fiber internet plans come with unlimited data!
You can pair AT&T Fiber with AT&T TV or DIRECTV, whichever you prefer. If you want the convenience of streaming TV, pick an AT&T TV lineup and if you are a true TV buff go for DIRECTV. Each service has its own unique benefits. The pricing varies between the IPTV and satellite-based choices, but both are cut to fit distinctive consumer needs in more ways than just the channel lineup.
AT&T Fiber and AT&T TV packages are offered without the stipulation of an annual contract. But as for DIRECTV, double plays come with a 2 year contract. And being a renter, you'll have to take this into account.
Given AT&T has spread its Fiber footprint to over 30% of locations across its 21 service states, chances of availability are pretty reasonable, especially so in the more densely populated urban neighborhoods.
Explore the variety of AT&T Internet and TV Bundles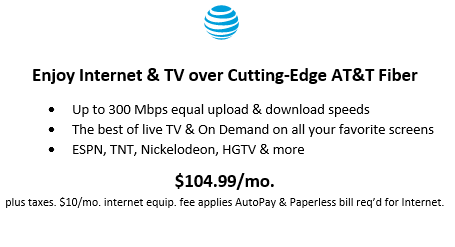 Cox: The Most Customizable
For people who prioritize flexibility in choosing how they build a plan fit for their needs, Cox is a top choice. Cox cable TV offers you three plans with 75 , 140 , and 250 channels, and if that isn't enough you can add on channel packs. Designed to satisfy the cravings of movie lovers and sports enthusiasts, the lineups are wholesome. And, with a great supporting add-on DVR, you can record 6 shows at once and store 250 hours of HD video!
As far as Cox Internet, there are five plans to choose from. Sure, the 25 Mbps connection is the bare minimum, good for 1-2 people who use the internet modestly, but other speeds i.e. 50 Mbps, 150 Mbps, 500 Mbps, and 940 Mbps, are great for a variety of households.
Cox allows 1.2 TB data and you've got to sign a term agreement to take advantage of the promo price. But given the room to play which Cox gives you, that's still a bargain.
Explore services and customize your Cox Bundle.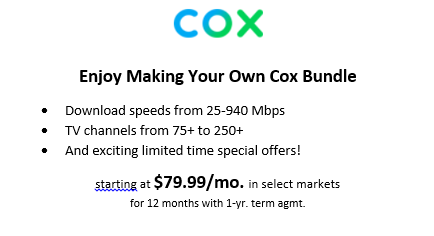 WOW!: The Most Affordable
Internet service can get crazy expensive. For single people and small households where usage is limited, spending upwards of $50 a month can exhaust the budget. We have included WOW! Internet in our picks today is an exception. WOW! operates in 19 markets in the Midwest and Southeast, but where available, its offerings are among the cheapest in the market.
WOW! gives a 100 Mbps connection starting at just $19.99/mo. for 12 months. Whole-home WiFi requires you to lease the wireless modem for $14/month. WOW! internet speeds max out at 1 Gig, with 200 and 500-speed tiers in-between. All plans are free of a data cap and annual contract. Factor in any limited-time offer running at the time, such as free modem rental for 3 months, and you've got a serious bargain.
While WOW! cable TV is still offered in its service locations, the IPTV service WOW!tv is fast taking over. As the cable TV service, it offers three TV plans: Small TV with 80 channels, Medium TV with 130 channels and Large TV with 160 channels. A WOW! double play for 200 Mbps download speeds and Small TV costs $64.99/month. Even when you take into account the additional costs, you land a super affordable deal.
WOW! also partners with popular streaming platforms, so if you prefer cutting the cord, you can do so with WOW! Internet.
Explore WOW! Internet and TV Bundles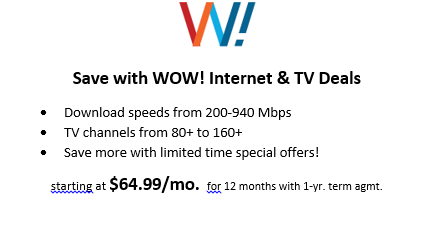 Final Words
For all the renters out there debating on which TV and internet package to subscribe to, we hope this article proves helpful. And gives you a better idea of how to get internet at the apartment. There sure is a choice, but each with its pros and cons, making it difficult to find the one which is the best fit. Call 1-855-349-9328, and speak to an expert to determine your options for the best internet for renters at your address.
Frequently Asked Questions
What is the cheapest fiber internet plan?
AT&T offers a Fiber internet connection with 300 Mbps equal upload and download speeds for $35/mo. which is one of the cheapest you can get.
Can you move your Spectrum subscription as you move?
Spectrum lets you take your connection with you if you're moving to a place that falls under its network coverage. Given it operates in 40 states, you shouldn't have trouble when you shift.
How to get cheap internet?
WOW Internet plans start at just $19.99/mo. (for 12 months), so if you're looking for cheap internet plans be sure to check out offer availability at your address. Call 1-844-343-1373.