Imagine playing Halo with the boys. You are close to breaking a record by getting 50 kills when suddenly your game starts lagging. Before you know it, your internet connection is lost and your game screen is frozen. Sounds painfully familiar?
As a gamer, you must know the importance of a reliable internet connection and consistent speeds all too well. A smooth gaming experience can help you unwind and relax after a tiring day. Whereas gaming with a bad internet connection is incredibly frustrating as the game keeps lagging, the video quality drops, and sometimes you cannot hear what your squad present on the gaming server is saying. If anything, gaming with a poor internet connection is a rather stress-inducing phenomenon.  
From highly immersive gameplay to hyper-realistic graphics, all aspects of gaming technology have evolved. But the good news is we do have the internet technology to keep up with the advancements in the online gaming world. Whether you are a diehard player looking to step up your game or just need some sociable company, upgrade your gameplay with Windstream internet.
Over the past 17 years, Windstream has become a household name synonymous with reliable internet service. Kinetic internet by Windstream offers fast speeds with unlimited data and no contract requirements. Let's find out if Windstream internet is a good fit for your gaming needs!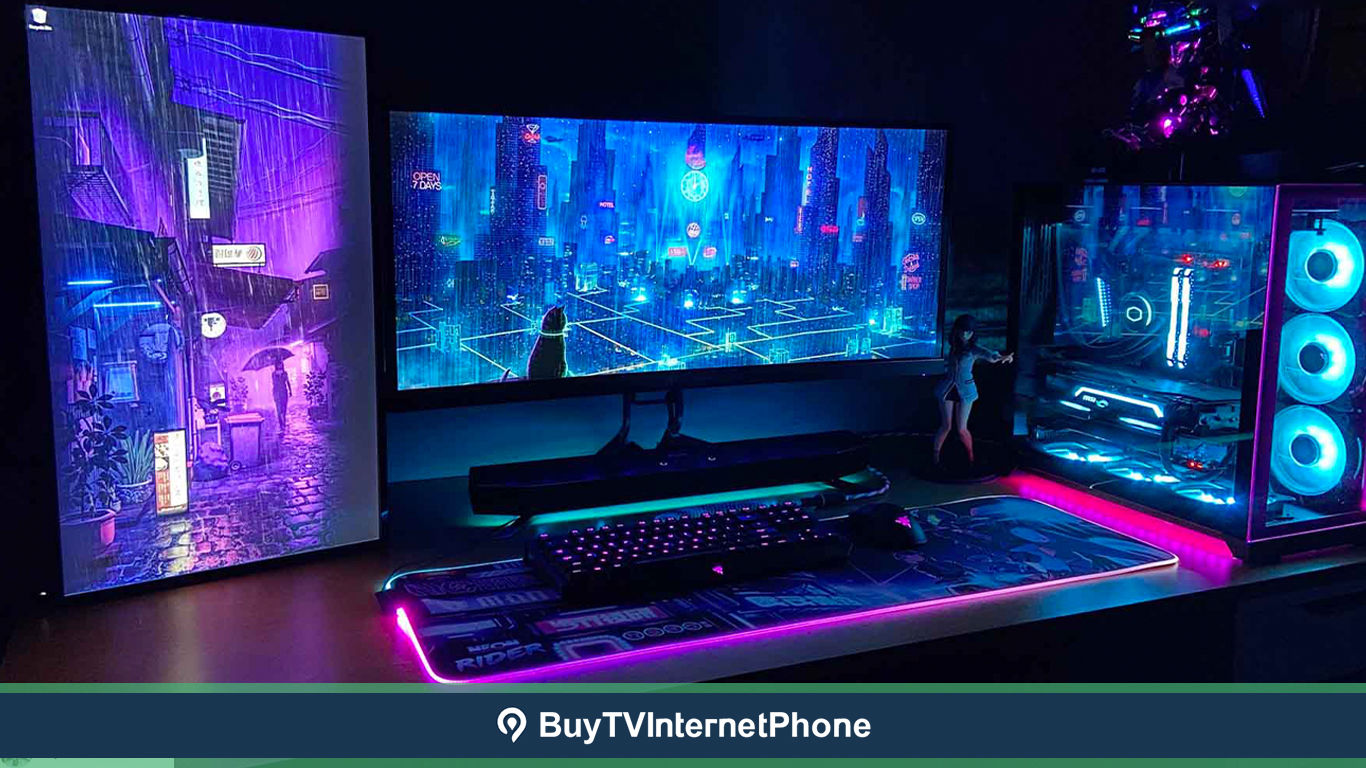 Windstream Internet for Gaming
Windstream emerges with an exceptional presence across rural America―and Kinetic Internet also connects a good deal of suburban communities in its 18 service states. The provider offers a range of internet speeds to meet the diverse needs of its vast customer base.
So, if you are a gamer looking for blazing-fast internet, which promises low latency and no ping spikes, Kinetic Fiber internet plans would be your safest bet. Kinetic Fiber service delivers ultra-fast speeds starting at $39.99 per month for the first 12 months with no contracts or data caps, and a number of other irresistible features to tempt you into signing up.
Internet plan

Max. Download Speed

Price*

 

Kinetic Fiber Internet

Up to 500 Mbps

$39.99/mo.

For 12 months

12-month Promotional rate requires Autopay.

Kinetic Fiber Internet

Up to 1 Gig

$69.99/mo.

For 12 months

12-month Promotional rate requires Autopay.

Kinetic Fiber Internet

(where available)

Up to 2 Gig

$169.99/mo.

For 12 months

12-month Promotional rate requires Autopay.
*Price subject to change after the promotional period. Taxes & Fees not included.
What Makes Kinetic by Windstream a Good Option for Gaming?
Windstream Kinetic Fiber internet gives you the downstream and upstream power which guarantees the ultimate online gaming experience—at a price that comes as a pleasant surprise. Here are some key factors that make Windstream a perfect choice for all gamers:
Throttle Free Connection
Throttling is when your internet service provider deliberately limits your internet bandwidth without informing you. This can lead to latency and lag during gameplay. Windstream realizes the effect lag and latency can have on your gaming experience and scoreboards. Kinetic internet does not come with any data restrictions, therefore the provider does not put any network throttling upon users no matter how much data they have consumed. Without throttling, you can enjoy the smoothest gameplay at the high speeds you are paying for.
Rest assured, Windstream makes sure you only get the fastest speeds on the most reliable network for a perfect gameplay experience—keeping you and all other devices running on your home network connected at all times.
No Data Caps
If you are an avid gamer, it is easy to hit the cap on your data plan. Downloading and playing games with advanced graphics, or streaming your gameplay will lead you to run out of data if you have an unreasonable data cap.
Windstream supports your online gaming needs by offering unlimited data with all its plans. So, you don't have to constantly worry about running out of data when you need it the most or having to pay an overage charge if you exceed your monthly allowance.
Fiber-Based Connection
Windstream Communications offer high-speed DSL and pure fiber internet plans. If you are on the FTTH network, you will get access to symmetrical speeds, meaning both your upload and download speeds will be equally fast. With Kinetic Fiber, you can enjoy seamless gameplay even in 4K as it churns out fast speeds and low latency—if available in your area.
In areas lacking a fiber infrastructure, Windstream delivers Kinetic high-speed DSL internet via a hybrid network, supported by a fiber backbone. Compared to its DSL counterparts, Kinetic high-speed DSL internet offer better reliability and lower latency—enough to support online gaming.
Impressive Internet Plans
Each Kinetic internet plan is carefully designed to meet your individual and household needs. Windstream Kinetic plans not only supports your gameplay needs, but also make sure factors besides fast speeds, like low latency, sufficient data, and high bandwidth are covered and sustained as all of them directly impact your gaming experience.
Moreover, Windstream offers contract-free plans. Whether you are a casual or pro gamer, you can enjoy super-fast internet speeds with no hassle of signing a contract.
Which is the Best Windstream Internet Plan for Gamers?
Depending on the type of gameplay, most consoles require less than 5 Mbps in download and upload speeds for a single player. The catch? That doesn't take into consideration multiplayer gaming or additional devices connected to your home network. Kinetic by Windstream offers impressive speeds of up to 1 gig for downloading and uploading.
So, if you don't want to worry about your game freezing up when you are about to take out your last opponent, go for the Kinetic gig plan. With Kinetic gig, you get to enjoy the fastest speed with low latency and ping—delivered via an advanced fiber-backed network. Plus, all Kinetic internet plans come without any contracts or data limitations—enjoy unlimited internet for unlimited gaming.
New to Gaming? Learn the Basics!
If the gaming jargons mentioned above blew your mind, you must understand a few basic gaming internet speed terminologies to make sure you choose the right internet service for your gaming needs!
Download Speed/Upload Speed
If you pay attention to the details of your internet plan, you will see two speeds mentioned. The download speed is how long it takes to download information from a server. It is an important measure as it tells how fast you can download videos or images, stream your favorite songs, send emails, or open websites on your device. When it comes to gaming, download speeds affect how long it will take you to download or stream a game in HD. With an adequate download speed, the process of downloading games becomes seamless. Where the download speed requirement for games and consoles varies, the minimum requirement is 3 Mbps.
Most people tend to completely ignore upload speeds when it comes to gaming. In reality, upload speeds do have some influence on your gaming experience especially if you live stream your gameplay. Basically, upload speeds are a measure of how fast information is sent to a server from your device. They reflect how fast you can upload files or send emails. The higher your upload speed, the more seamlessly you can livestream on YouTube or Twitch. For gaming, the minimum upload speed requirement is 0.5-1 Mbps.
Latency
To put it simply, latency is a delay in response by the server. When you play online, the time delay between a command and an action being performed on screen is latency. Latency is measured in milliseconds and is indicative of network connection quality. You cannot completely get rid of latency no matter how good your internet connection is, however, the ideal condition is to minimize latency. The lower the latency, the smoother your gameplay will be.
Some of the principal causes of Latency include server distance, outdated equipment, and network bandwidth. For gaming, 40-60ms is acceptable latency. Whereas, a latency of 100ms or higher would result in significant delays and lags during gameplay.
Lag
Lag is a more technical term for latency. In common terminologies, lag is the delay in streaming or gaming caused by a high ping or latency. It can ruin your gameplay and your gaming scoreboard.
Ping Rate
Your device and the online server send information back and forth to communicate and perform an action. Ping rate is the response time of your internet connection when your device sends information. The longer the response time the higher the ping rate. It is measured in milliseconds. For gaming, it is ideal to have a ping rate lower than 20ms.
A ping rate test can help you determine if you will experience any lag or latency during your gameplay. Therefore, run a ping test before your gaming session to evaluate the quality of the internet connection and predict how smooth your gaming session will be.
How to Get the Best Internet Service for Gaming?
If you are an online gamer stuck with a bad internet connection, follow these tips to find the right internet connection for your gaming needs. 
If available, choose a fiber internet Fiber internet is based on the newest broadband technology and offers lightning-fast, symmetrical speeds that ensure a smooth gaming experience.
Look for unlimited data plans. Some games can take up to 80Gbs to download, and with limited data packages, you will run out of internet before you know it.
Choose a reliable internet service provider like Windstream communications. With a good provider, you get premium internet service and customer support necessary for a good internet experience.
There You Are!
For a seamless gaming experience, you need to invest in a good internet service provider. With a fast and reliable ISP like Windstream, you can keep up with speed & bandwidth requirements for gaming without breaking the bank. Enjoy high-quality, exceptional speeds, great reliability, excellent consistency, and impressive performance. And bid farewell to low-quality gameplay.
Check for the availability of Kinetic internet plans at your address by contacting Windstream customer service at 855-349-9312 and find out which plan best suits your gaming needs. Sign up to Windstream Kinetic for a seamless gaming experience.
Frequently Asked Questions (FAQs)
What Is a Good Internet Speed for Gaming?
For a single device, 3 Mbps is enough. However, if you have a family with multiple devices connected to the internet, a smart home, and users multitasking, you need at least 300Mbps for a smooth gaming experience.