Finding the right TV package is not easy. With tons of packages available in the market, you're bound to get confused and worse still, choose the wrong plan. If you're tired of looking through catalogs, let us help you.
We've done the reading so you don't have to. No matter what you're interested in, we've got you covered. To guide you we've compiled a list of the 5 best TV packages for 2020. So whether you're looking for a package for the family or to keep up with your mates you'll find the best one for the purpose right here.
DIRECTV Ultimate™
Does the thought of missing a game make your blood boil? Do thoughts of the upcoming football season occupy your mind? Do you find yourself seeking out bars to watch a match?
If you're a sports junkie, then worry no more. We have the perfect TV package for you! You can watch all the games you'd ever want right from the comfort of your own couch.
When you subscribe to DIRECTV Ultimate™, you get access to more than 250 channels at an affordable price of $84.99 a month for the first year.
DIRECTV is known as the best television provider for sports programming. It is the one-stop solution to realizing your wildest dreams and your unstoppable cravings as far as binge-watching sports events. With NFL Sunday Ticket included in the package, you'll feel like you have hit the jackpot. If you want more, DIRECTV Premier is available at just $134.99 per month.
We'd recommend, however, you stick to DIRECTV Ultimate™, for it already covers all that you will ever need. The package includes all major sports channels like NBA TV, NHL Network, MLB Network and of course, the NFL Network. The NFL Sunday Ticket ensures you don't miss any game ever again. And given DIRECTV offers more high-definition (HD) channels than anyone else, you won't miss the fine details either. If you do miss out on anything because of your busy schedule, you can always record it. DIRECTV allows you to record 200 hours of content.
Cons:
When you sign up though, remember the $84.99 monthly fee is not inclusive of taxes and RSN fee and that there is a two-year contract. Given the monthly fee increases after the first year of service, you might want to confirm if the package falls within your budget.
On the downside, DIRECTV does not offer Pac-12 Network. If you're a college sports fan, this could be a deal-breaker. If that's the case, we'd suggest you subscribe to DISH.
DISH America's Top 200
DISH America's Top 200 is the answer to all your home needs and it is also perfect for college sports fans. At $79.99 a month, you get most of the college sports channels out there including, Pac-12, SEC Longhorn, ESPN Goal Line, and Big Ten Network. You don't get NFL Sunday Ticket, but if you don't need that, then this is the package for you! The package offers Disney XD, Animal Planet and Nick Jr, among other channels, making it a guaranteed hit in any family. And guess what! The package is pocket-friendly too. You get more than 240 channels at $79.99 and unlike DIRECTV, you won't see a spike in your bill after the year ends. DISH also offers a free trial of premium channels for 3 months from time to time.
In addition to this, DISH has the best DVR available. With Hopper 3 Smart DVR, you can record up to 16 shows at a time, and 2.5 times more HD content than with DIRECTV. Bear in mind though, the price of the DVR is not included in the package. The additional $10, however, is a small price to pay especially since with Amazon Alexa integrated into the system, a completely different experience is in the offering. But this is not all!
DISH's partnership with Common Sense Media allows you to customize your children's experience ensuring they watch age-appropriate content. While with the DISH Anywhere app, you can keep them busy wherever you go allowing yourself to get the quiet time you desperately need. Needless to say, this is the ultimate package for any family.
Cons
DISH has a reputation for mediocre customer service. So you should expect longer wait times on call. The equipment expenses can also add up making this pocket-friendly option a pricier one. So before you move forward, do check out all the expenses you might see on your bill.
Other than that, we think you should go for it!
Spectrum TV Gold
If you are a person of expensive tastes and premium content is your guilty pleasure, you'd fare the best with Spectrum TV Gold.
Adding premium channels to your package can cost an arm and leg but if you subscribe to Spectrum TV Gold, you'll get it all at the bargain price of $89.99 a month – one of the best cable TV pricings out there. With more than 200 channels to entertain you, you can watch all the movies you want and so much more! You can find out which channels are offered in your area by reaching out to Spectrum Phone Number. You might also want to ask about their contract buyout deal while you're at it. With all the options Spectrum offers, we'd recommend that you subscribe right away.
The best part about it is that you can cancel it as you see fit. There is no contract binding you to Spectrum TV. If you want to splurge and treat yourself, just get the premium deal for six months before cutting back to a more basic package. Spectrum's prices increase after twelve months just like DIRECTV, but lucky for you when that happens you can easily say adios.
Cons
It's not all sunshine though. The biggest drawback of using Spectrum service is its DVR, Spectrum's DVRs come with varying recording capacities but tend to not store as many hours of recording in HD content as others may offer. If you want to cherish a good experience out of the service, we'd recommend you purchase the DVR. TiVo BOLT VOX is a great option and with the 1TB model, you'll be able to record up to 150 hours of HD content.
If you're willing to dish money generously to get the best, then AT&T is the provider for you. Offering the best TV in $124.99 a month, AT&T gets you to access to more than 550 channels, in fact, the most offered by any cable service. Not only that, the lineup includes premium channels too. To get AT&T packages, call AT&T customer service and get your subscription now!
What's more?
If you want, you can get TV entertainment packaged with ultra-fast download speeds thus opening up a whole new world of streaming video content. And you can rest assured when you get to the climax of a movie, all tense waiting to see how everything culminates, buffering time will be the last thing on your mind. Also, when you play online, you'll get HD visuals through and through.
But that's not all.
AT&T U-verse Total Home DVR is capable of storing 155 hours of HD content, more than what you'll need. You can record four shows at the same time on one DVR from anywhere in your house. The ideal choice for any family!
Cons
There is only one downside to AT&T services and that is the price. On top of the $124.99/month for subscription, you'll be expected to pay taxes that come along. The plan also has a one-year agreement meaning you can't switch providers at any time during the term of agreement without penalty. However, given all that it offers, the price does get more than justified.
Verizon FiberOptic Preferred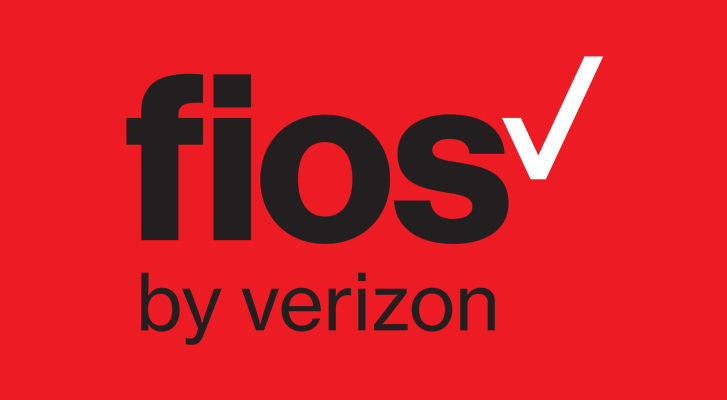 Most cable companies have awful customer service. You might call for something and end up waiting hours till you get to talk to their representative. This impacts the user experience significantly. If this is the one thing you dread when dealing with cable providers, Verizon FiberOptic is the best option for you.
Verizon FiberOptic provides cable service that is on par with all other companies in terms of quality.
We'd suggest you go for the Preferred plan that brings you 280 channels for $74.99 and that too in HD. You will get an option to sign-up for a free trial to see if you like the service in case you find yourself less than convinced.
When you bundle your TV with the internet, the fiber-optic connection ensures the fastest speed on the block giving you an edge even when you connect multiple devices – you will find the speed uncompromised while streaming video content.
Cons
Verizon FiberOptic comes at a price that is among the highest. While the actual price of the package may not seem too high, the additional costs do add up!
You'll have to pay a fee every month for the DVR service depending on the box you choose and the DVR options aren't even the best. Plus in order to avoid a contract, either you will have to pay more per month for the TV service or simply bundle it with the internet which may rack up an even higher bill. The good thing is though that they'll be upfront with you and available to answer all your questions when you need them to. The fiber-optic cable also makes up for the cost. But, then again you should analyze what you want from your cable provider.
What Do You Really Want?
We've shortlisted five TV packages you'd find appealing. Whether you're a sports fan, a gamer or a binge-watcher we've got something for everyone in these packages.
Let us know what you think. What do you look for in your TV packages and what have you come to expect from major cable companies. Is there a package you'd like to know more about? Leave us a comment below.