Finding the perfect internet service provider can be overwhelming, especially if there is more than one option available. How exactly can you decide which provider meets your household internet needs? Do you subscribe to the cheapest provider? Or, do you subscribe to the most expensive one?
Well, three things that matter the most when choosing an internet service provider are the maximum download speeds, data allowance, and whether you want to go for a term or no-term agreement. Moreover, you must know which type of internet will you prefer. In urban and most suburban regions wired internet is available in 3 forms: High-speed DSL, Cable, and Fiber. But, in rural regions, removed from the reach of wireline services, Fixed Wireless and Satellite are usually the only high-speed internet options available. The availability of one or more of these types depends on where you are located.
Residential Internet Coverage in Connecticut
In Connecticut, DSL and Cable are the most widely available broadband options. Nearly 96% of residents of the state can access DSL while Cable is available to about 99%. As far as Fiber optic internet, it is limited to select areas and coverage amounts to a little over 9%. Satellite internet however is accessible anywhere you get a clear view of the southern sky.
Overall, Connecticut is proud of being among the top 10 most connected states in the country, with all 8 counties depicting over 95% connected status. Average download speeds in the city lurk around 160 Mbps, and nearly 99% of the state population can enjoy 100 Mbps or faster broadband, which is another testimony to how well connected Connecticut is.
Top Internet Providers in Connecticut
Here is a listing of the major ISPs keeping Connecticut as connected as it is. These Connecticut internet providers present a range of service types, speed, and data offerings, along with other perks. But not all serve all Connecticut counties. This is why it is recommended if you find any of these providers offers appealing, check service availability at your address before you make the final call.
Xfinity from Comcast
The Xfinity Internet service is predominantly delivered via a hybrid Fiber-Coaxial network, while its pure Fiber internet is only available in select locations. Xfinity is known to always be up-to-date with evolving technologies and consumer trends, which makes its products and services the best in the market.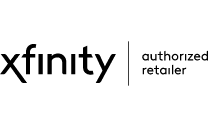 Cable Broadband delivered over the largest Gig Network
Download speed from 50-1200 Mbps
$19.99/mo for 12 months with a 1-Year Agreement.
Includes $10/mo. automatic payments and paperless billing discount for 12
The variety of Xfinity internet plans covers a wide range of consumer needs with download speeds starting from 50 Mbps. Higher tiers offer 100, 200, 400, 800, and 1200 Mbps download speeds. This way you are likely to find a plan that fits the needs of a small family with basic internet usage as well as for a large household with multiple users and many smart devices. All these plans get you a 1.2 TB data allowance, which is virtually unlimited for most consumers.
All internet plans get you a FREE Flex 4K device with a voice remote and an unbeatable in-home WiFi experience with Xfinity xFi. When on-the-go Xfinity WiFi hotspots keep you online via a secure connection totally free of cost.
The Xfinity Internet service gives you a 30-day money-back guarantee which makes it a risk-free investment opportunity. If for any reason you are not satisfied, you have the option of canceling the service anytime within the first 30 days of activation and get a refund against monthly service charges. Plus you can choose to avoid signing a term agreement if you are willing to forgo the promotional price offer.
Explore Xfinity Internet offers. Order Online to check availability.
Spectrum
Spectrum is one of the most popular and widely available internet service providers across the U.S. Spectrum services are accessible in more than 40 states to over 100 million people. The Spectrum Internet service is delivered over a hybrid Fiber-Coaxial network and carries a good repute for being fast and reliable.
Spectrum Internet plans are split into three standardized speed tiers, 300 Mbps, 500 Mbps, and 1 Gbps. Each comes with unlimited data, a free internet modem and antivirus software, and free access to Spectrum out-of-home WiFi hotspots.
Download speed from 300 Mbps to 1 Gbps
Unlimited data
No annual contract
$49.99/mo.for 12 months with Auto Pay
Spectrum not only ensures widespread availability of high-speed cable internet and gets you freebies, but the service comes with a 30-day money-back guarantee making it a totally risk-free subscription. None of the plans requires you to sign an annual contract. Rather Spectrum has a contract buy-out offer for new customers which can come in handy if you want to cancel your current subscription early and switch to Spectrum.
Browse Spectrum Internet plans. Call at 1-844-481-5997 to check availability.
Cox Communications
Cox Internet is delivered via an upgraded hybrid Fiber-Coaxial network, which reaches out to nearly 21 million people in over 15 states.
Cox Communications has endeavored to design its broadband service in a way that everyone, from a single user to a large super-connected household, can benefit from its offerings. Cox Internet download speeds range from 25 Mbps to 940 Mbps, with 50, 150, and 500 Mbps tiers in between.
That said before you go ahead and decide on a Cox plan, be mindful of the size of your household as it is important to know how many users/devices will connect. All Cox broadband plans come with a 1280 GB data allowance which is more than adequate for standard household usage.
Download speeds from 50 to 940 Mbps
Make strong connections with Panoramic WiFi
#1 internet for streaming according to Nielson Data
With the exception of the basic, all Cox Internet plans offer you good value for your money. An online security suite powered by McAfee ensures a safe online experience, and FREE access to millions of Cox WiFi hotspots keeps you connected on the go.
Cox Panoramic WiFi is one of the highlights of the service. The high-end Panoramic WiFi Gateway delivers wall-to-wall secure coverage and delivers for everyone in the family. Work where you feel comfortable and more productive, you do not have to sit next to your router.
Browse Cox Internet plans. Call 1-855-349-9316 to check availability.
Optimum by Altice
While Optimum has limited coverage relative to giants like Xfinity from Comcast, Spectrum, and Cox, in the tristate area i.e. New York, New Jersey, and Connecticut, the Optimum Internet service is a sure bet where available.

Download speeds from 300 to 940 Mbps
Whole-home WiFi & FREE access to Optimum out-of-home WiFi hotspots
Optimum has been ranked the most reliable ISP for 6 years in a row
Optimum delivers Gig internet over a hybrid Fiber-Coaxial network, with pure Fiber connections in select locations. Starting speeds are as high as 300 Mbps, and the introductory price is very affordable at $45/month. Connect your home via Optimum whole-home WiFi and save mobile data, you also get FREE access to out-of-home Optimum WiFi hotspots. The service comes from YouTube Verified, so rest assured you will not have trouble streaming video. A big plus is the intelligent Optimum network now has built-in security so you are protected from cyber threats by default.
Explore Optimum Internet plans. Call 1-844-520-8978 to check availability.
HughesNet
HughesNet is America top pick for satellite internet. Despite being unique in its mode of transmission, HughesNet internet has some limitations. But if you happen to be part of the percentage of consumers in Connecticut who are stuck with just one or simply no wired option, and also have no access to Fixed Wireless in the area, satellite internet is your best choice.
HughesNet Gen5 Internet plans offer a fixed 25/3 Mbps download and upload speed across the board, but each is defined by the data allowance it gets you. Data tiers are typically designed to cater to a range
of consumer needs from both modest to extensive. To compensate for the capped allowance, HughesNet gives subscribers 50 GB of Bonus Zone data. All internet consumption during off-peak hours (2 am - 8 am) is automatically accounted for by this FREE data block you get every month. Plus the data cap is soft, there is no overage fee and you are also not thrown offline, albeit the speed is throttled to 1-3 Mbps for download.
All in all, HughesNet plans are good enough for small-mid size households where standard usage patterns prevail.

25/3 Mbps satellite internet
FREE Bonus Zone Data
Available coast-to-coast
$39.99/mo. for 6 months with 24-month commitment
Satellite communications infrastructure is expensive to deploy, so the service comes at a higher price. But a big chunk of what you pay goes towards being able to access broadband speed in a location where no other high-speed internet service is available.
Call at 1-855-349-9309 to speak to our professionals regarding the HughesNet Internet plan you are interested in.
EarthLink & CenturyLink
EarthLink and CenturyLink both serve Connecticut to a varying extent. Each of these ISPs provides high-speed DSL and Fiber internet to residential neighborhoods, but you may find services are a little limited compared to competitors.
EarthLink works in a way that is a little unique in that it piggybacks on established DSL and Fiber networks of other ISPs by entering partnerships. In most service locations across its 50 state coverage, EarthLink uses CenturyLink, AT&T, and Verizon networks. But unlike these providers, EarthLink does not make promotional offers so you get to pay at the standard rate right from the start. All EarthLink Internet plans come with unlimited data. But speed availability and pricing is tricky so it is advisable to determine offer availability. To do that call at 1-844-343-1171.
CenturyLink Internet plans are simple and straightforward. High-speed DSL speeds max out at 100 Mbps, and pure Fiber internet gets you up to 940 Mbps. All plans come with unlimited data. There are no annual contracts, and you pay month to month, without seeing a price hike as it so often happens when the promo price expires. CenturyLink Complete WiFi transforms your in-home WiFi experience. The CenturyLink wireless modem uses WiFi 6 tech and provides a reliable, fast, and secure connection. Again, since CenturyLink availability is somewhat limited in Connecticut, do check offer availability by calling at 1-855-349-9310.
Conclusion
Well, there you go!
Equipped with the knowledge of what your home needs to ensure seamless broadband access for the entire family, and aware of what is available in the internet market in Connecticut, you should be ready to narrow down to the best internet service providers in Connecticut serving your neighborhood. If you find yourself confused, give a call at 1-855-349-9328 and let experts help you out with the necessary information.
FAQs:
Is DSL better or Cable Internet?
Cable Internet offers faster speeds and costs less per Mbps with the majority of offers. The advantage DSL has is that it is more widely available in rural America.
Does HughesNet Internet offer unlimited data?
HughesNet Gen5 plans are data-based. You get 10, 20, 30, and 50 GB data plans which are supplemented by 50 GB Bonus Zone Data free of cost.

How do I check which internet provider offers internet at my address?
You can call BuyTVInternetPhone at 1-855-349-9328 to inquire about internet providers in your area.

Why did my monthly internet bill increase?
Your monthly bill may be showing a higher amount because the promotional period has come to an end. Promotional offers usually last for 12 months, but some are shorter at 3 or 6 months. Another reason for the higher bill to pay could be the data overage charge, that is if you are on a service plan with capped data.